Our editors independently research, test, and recommend the best products. We may receive commissions on purchases made from our chosen links.
There is something extremely satisfying about nurturing an egg and waiting eagerly for it to hatch and grow. That's why toy dinosaur eggs have become a popular toy with kids, with many parents even giving them out as party favors at children's birthday events. Although these eggs have been around for some time, they are once again on many kids' wish lists when the new Jurassic World movie comes out.
There are many variations of toy dinosaur eggs. On this page, we've included all our favorites, including the classic dinosaur eggs excavation kits, dinosaur eggs that hatch and grow in water… and some unusual ones like dinosaur eggs bath bombs, and a robot dinosaur pet. Read on to find the perfect one for you.
Toy Dinosaur Eggs – Our top picks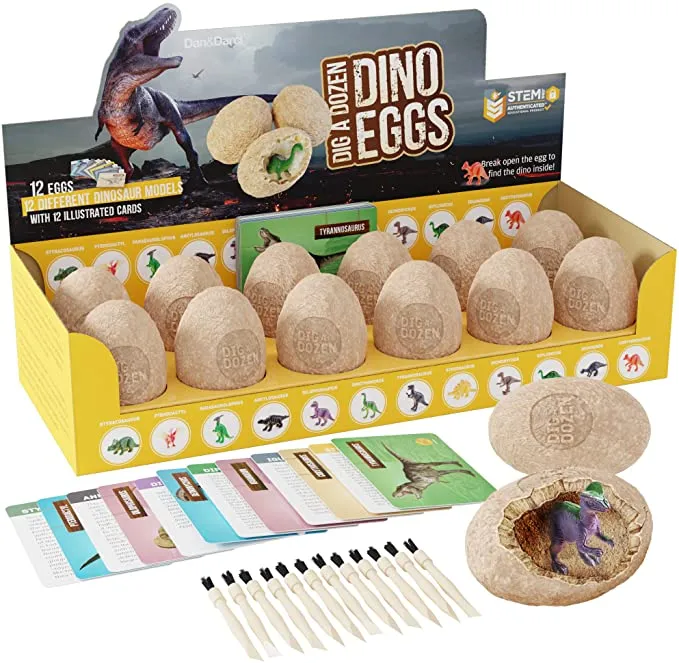 Dan & Darci Dinosaur Excavation Eggs
(Age recommendation: 3-12 years old | Price: $)
What it is: First up it's this fun STEM educational dinosaur egg excavation kit. Your young paleontologist can chisel away at the 12 dinosaur eggs to discover 12 unique dinosaur models that were buried inside, from adorable Diplodocus to ferocious Tyrannosaurus. Each dinosaur model is accompanied by a learning card, so once you've uncovered the dinosaur you can learn a little more about the dinosaur type.
The kit contains everything you need for this fun afternoon or birthday party activity – 12 dinosaur eggs, 12 hidden dinosaurs with their accompanying learning cards, 12 chisels & brushes, an instruction guide, and an activity display box to set the scene at the start.
Why we like it: What a fun and educational activity for the whole family. Older kids can easily do this on their own, and younger ones can still enjoy the chisel and brush activity with the help of an adult. Here's what one mother said "I ordered these for my daughter's dino-themed 4th birthday party. We had about 14 very energetic 4-year-olds running all over the place. It was an absolute lifesaver. I was able to wrangle all 14 at a table and demonstrate how to properly use the chisel before I set them loose. All the kids loved digging and spent a good 15-25 minutes each for them to completely dig the dinosaurs out – a great relief for all the parents."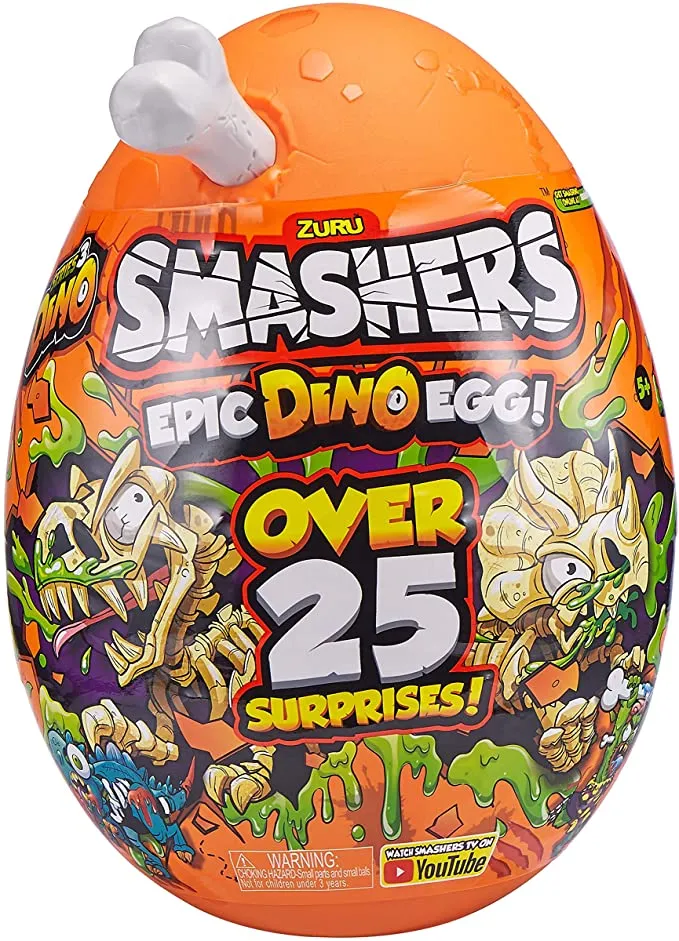 Smashers Dinosaur Eggs – Giant activity kit with surprise
(Age recommendation: 5 years + | Price: $$)
What it is: Hidden inside this giant dinosaur egg is a great activity set for dinosaur-loving kids. Smash open the dinosaur eggshell to reveal over 25 surprises including excavation kits, slime, fizzy lava bombs, and broken dinosaur bones you can assemble and build into your very own dinosaur skeleton model (you can choose one of three – a Brontosaurus, a T-rex, or a Triceratops). You can even rebuild it if you want to smash it all over again.
Why we like it: I don't remember meeting any kid that doesn't like smashing things up. Just watch the video of kids smashing the dinosaur eggs in the review! This grandmother said "I purchased a couple for my Grandson. It was a wonderful quality time experience. He taught me so much about what each dinosaur does. We saved the smaller eggs to break open daily to see what wonderful surprises were inside." Just make sure you protect your floor with newspapers or do it outdoors to make cleaning up a breeze.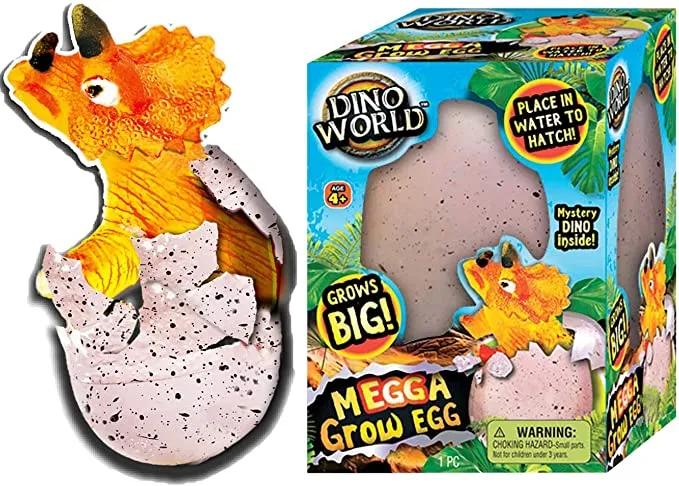 Giant Hatch in Water Dinosaur Egg
(Age recommendation: 3 years + | Price: $)
What it is: Another classic dinosaur egg toy. To hatch this large 5 by 3 inches egg, place it in a bucket of cool water and watch it hatch and grow into a dinosaur within 12-24 hours. Leave it in the bucket for another few days for the dinosaur to grow even bigger.
Why we like it: Unlike the previous 2 dinosaur eggs activities, this one takes time to hatch and grow. In the modern fast-paced learning environment, this is a wonderful opportunity to teach kids the virtue of patience in a fun and encouraging way. Watch your child take on a nurturing and caring role over a couple of days and squeal in delight when it finally cracks!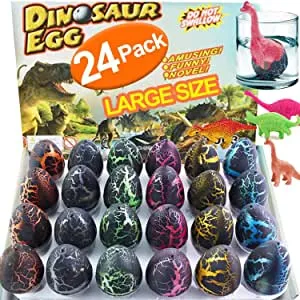 Pack of 24 Hatch in Water Dinosaur Eggs
(Age recommendation: 3 years + | Price: $)
What it is: Another option for a hatch-in-watch dinosaur egg. This one is smaller, about the size of a normal chicken egg, and comes in a pack of 24, making it a great party favor present for birthdays, Easter egg hunts, and stocking fillers.
Why we like it: The eggs are surprisingly intricate-looking for the price, making it a very presentable gift, especially for Easter. Here's what this mother said "My son is really happy to receive this dinosaur hatching egg as a gift. He is an avid dinosaur fan. He soaked it in an empty fish tank in our house. We observed the entire hatching process together. On the first day, the dinosaur hatched from the eggshell. The next day, the dinosaur grew to three times its original size. What a great toy!"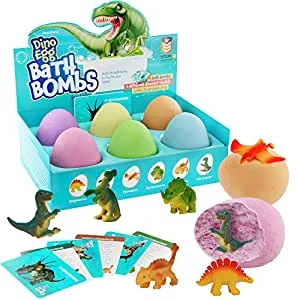 Dan & Darci Dinosaur Eggs Bath Bomb
(Age recommendation: 3 years + | Price: $)
What it is: If waiting for days to hatch a dinosaur egg isn't your child's idea of fun (it's ok, we don't judge), then perhaps the dinosaur eggs bath bomb is a better toy. This colorful fizzy bath bomb converts bath time into a fun bubble playtime, with a bonus hidden toy dinosaur hidden inside each egg. Each bath bomb also comes with a learning card that describes the type of dinosaur you find.
Why we like it: Aside from the hilarious promotional video on the Amazon page where the mum was literally begging her son to get into the bath (anyone else can relate to this?!), we love this colorful fizzy bath bomb because it includes a hidden toy to keep your child entertained in the bath.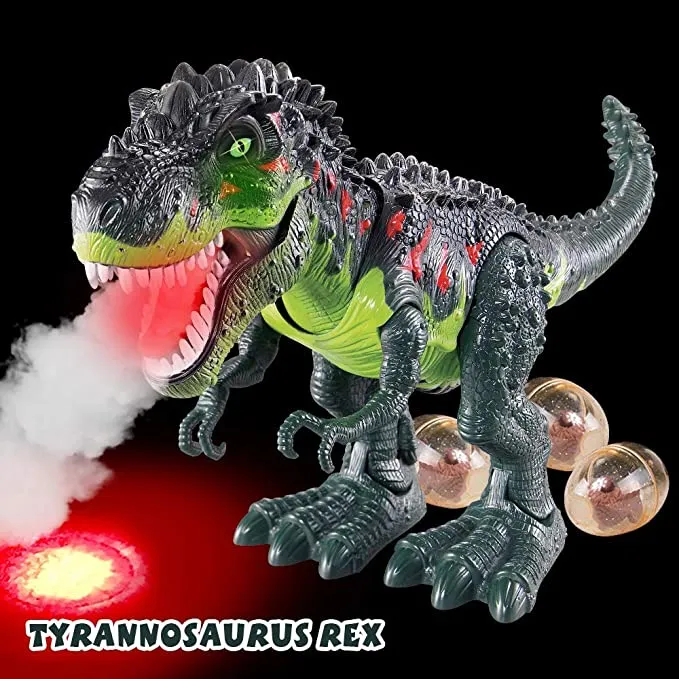 Eggs laying Robot Pet Dinosaur
(Age recommendation: 3 years + | Price: $$)
What it is: For something a little different, try a robot dinosaur instead. This dinosaur has glowing green eyes, can walk, breathe fire and smoke, roar… and it can even lay eggs! There is a small water compartment at the back of the skull of the T-rex which produces an impressive fine mist when the dinosaur opens it mouth, which is accompanied by red LED lights that light up. Combined, this gives the dinosaur a realistic 4D "fire breathing skill" which you can feel because of the water mist.
Why we like it: Although it does appear a little fiddly for the adults, every kid in the review section absolutely adores the dinosaur robot. It is life-like enough to keep a 6 year old mesmerized, and can contribute to various imaginative play for the child. "The sound and the water mist were on point… I got this for my 4yr old grandson. He was so excited. It was great because he had wanted dinosaur eggs, this toy gave him that." For the price you pay for essentially a robot pet dinosaur, this is definitely a good value for money addition to your dinosaur collection.
For Younger Children (<3 years)
Toomies Spin & Hatch Dino Eggs
(Age recommendation: 12 months – 3 years | Price: $)
What it is: Don't want your younger child to miss out on all the dinosaur egg fun? This Toy Insider Winner of the Year spin & hatch dino eggs is the solution for you. 5 color dinosaur eggs sit inside an incubator, each hiding a different dinosaur. When your child pushes the top button down, the incubator spins and hatches the dinosaur eggs into little toy dinosaurs. Comes as part of a series of dinosaur toys, including a Chase & Roll Raptor, a Dino Rescue Ranger, and a Pic & Push T-rex.
Why we like it: Great for developing a toddler's gross & fine motor skills. Once the eggs hatch, a child can also learn their colors by matching and rebuilding the shells onto the egg with matching colors. We also like that it is made by Toomies, a reputable toy brand with quality products and this is one from the original Jurassic World brand. The eggs are also a good size and do not fit into a baby's mouth.
---
What to look for when buying dinosaur egg toys
Age of the child
This should be a moot point but one we should mention regardless. Always get an age-appropriate toy for your child. More complex excavation kits that are fun for older kids can be a choking hazard for younger ones, so always check the manufacturer's recommended age before purchasing the toy.
Occasion of the gift
Some of the dinosaur toys in this list, namely the Dan & Darci Dinosaur Excavation Eggs and the Pack of 24 Hatch in Water Dinosaur Eggs are actually great activity ideas for a group of kids. So if you are planning an Easter egg hunt, a birthday party, or any kind of children's event, these are fantastic options to entertain multiple kids at once and give the parents a break from chasing them around. They can also be perfect baskets or stocking fillers.
Learning opportunities – developmental milestones
We've tried to include only the toys that provide some sort of developmental or learning opportunities. Whether it is about learning about the dinosaurs themselves (Dan & Darci Dinosaur Eggs Bath Bomb) or encouraging fine and gross motor skills of a toddler (Toomies Spin & Hatch Dino Eggs), these toys are handpicked to help your child unlock developmental milestones and create a fun and engaging learning environment at home.
Learning opportunities – dinosaur specific
Dinosaurs are such common and popular toys that sometimes we forget that they are a diverse group of pre-historic animals with over 700 species identified to date. For a very young child, this might not matter, but for a paleontologist-to-be, specific details like whether dinosaurs did breathe fire (no, that's a dragon's job) becomes important. So if you have a budding paleontologist, you might prefer something like Dan & Darci Dinosaur Excavation Eggs which are more true to life.
---
Takeaway
Given how popular dinosaur eggs are, it is no wonder there is a huge variety of dinosaur egg toys on the market, which can be overwhelming for any parent or teacher. Hopefully, this guide can give you some ideas on what to look for, regardless of whether you are buying it for your own child/grandchild, or for a group of kids at a children's event. Personally, I am curious how big the Giant Hatch in Water Dinosaur Egg can grow, so I might have to get one for myself to try it out!