You came across dinosaur night lights on TikTok, Instagram, Pinterest… you might have even seen one glowing away in your friend's room and you are wondering where to get one. Is it a gimmick? Are you actually able to use these night lights as bedside lamps to read at night, or are they just cheap plastic products that will fall apart when you get them?
So far, we've not seen any in physical stores, so we've gone to all the usual online retailers like Amazon to find the best-reviewed ones. Here are our top picks.
Dinosaur Night Lights – Our Picks
We've reviewed the best night lights in a dinosaur theme, including ones that are fully portable, dimmable, and customizable for a perfect gift.
Best Calming Dinosaur Night Light – Our Favourite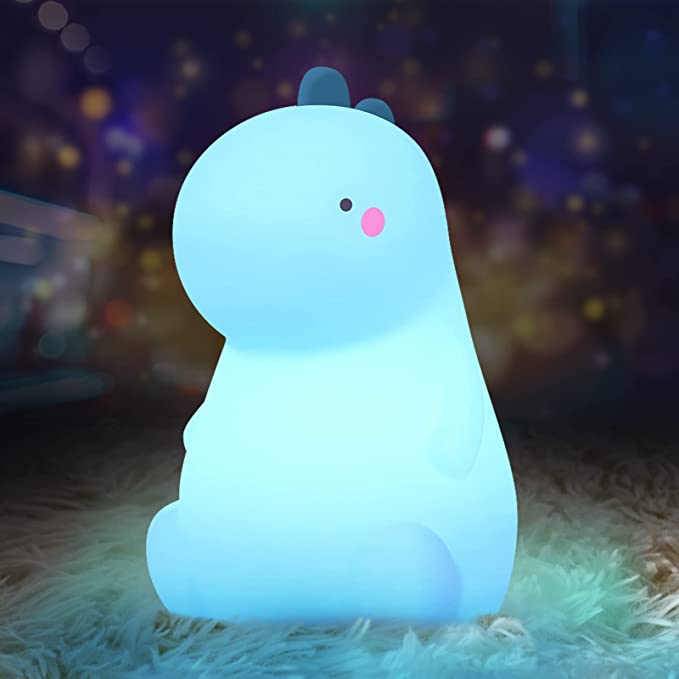 (Size: 4.72 x 4.72 x 7 inches | Light: Soft glow, suitable for nursery | Price: $)
By far the most soothing night light we've found, this adorable dinosaur night light is perfect to help you wind down and get to sleep at night. It emits a soft glow in 7 different color shades which you can change simply by tapping the dinosaur. Many parents use this to decorate their nursery room, so it acts as a companion light for babies/toddlers that are afraid of the dark at night.
Why we like it: The simple design makes it a great addition to the bedroom without being a distraction for young minds. In addition, we like that the body of the light itself is made of soft, BPA-free silicone with no sharp edges, which means even if your baby accidentally picks it up and starts chewing on it, they are unlikely to get hurt, unlike a typical glass lamp.
Runner-up alternative: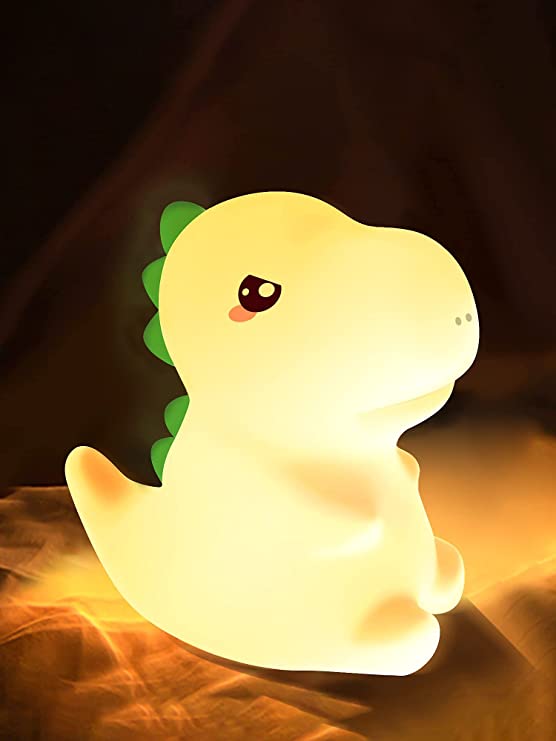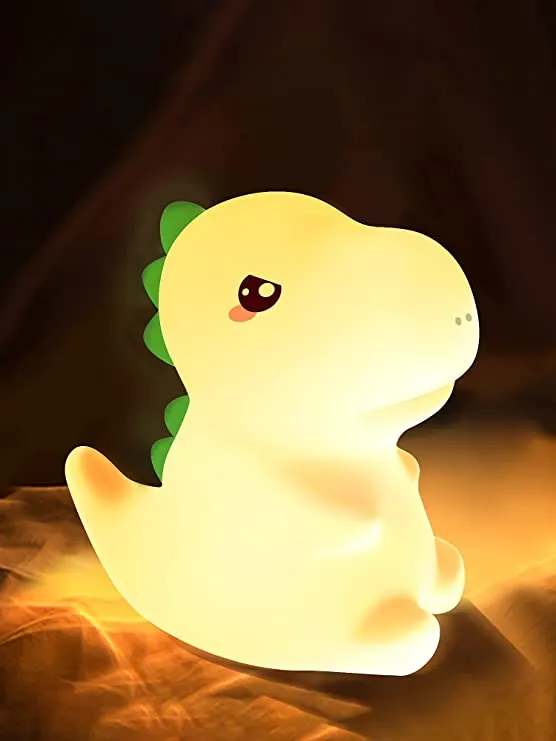 Best Neon Dinosaur Night Light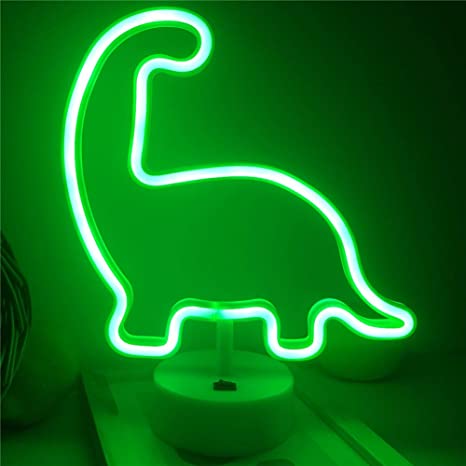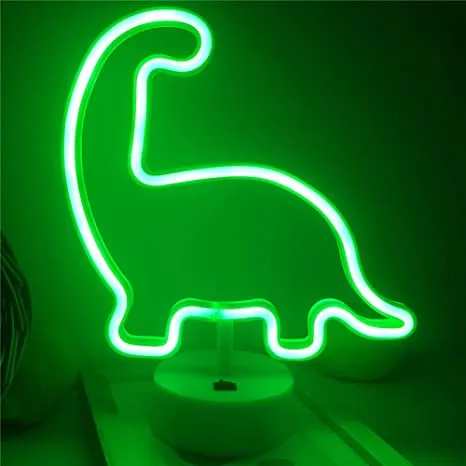 (Size: 9.4 x 11.2 x 3.9 inches | Light: Bright Neon | Price: $)
This is the most reviewed neon version of dinosaur night lights on Amazon with over 800 ratings and an average of 4.6/5 stars. The lamp itself is the shape of a Sauropod dinosaur, emitting a bright green neon glow in the room, which can either be battery-operated or plugged into the wall. The neon light is heatless so it does not burn little fingers if your child accidentally touches it.
Why we like it: For the price, it is a good set of neon lights. One thing we would point out is that most reviews comment about how bright the light is, which may not be suitable if you are using this to put your child to sleep. Just something to bear in mind when you are buying it as a night lamp for light-sensitive sleepers.
Best Dinosaur Disco Light Projector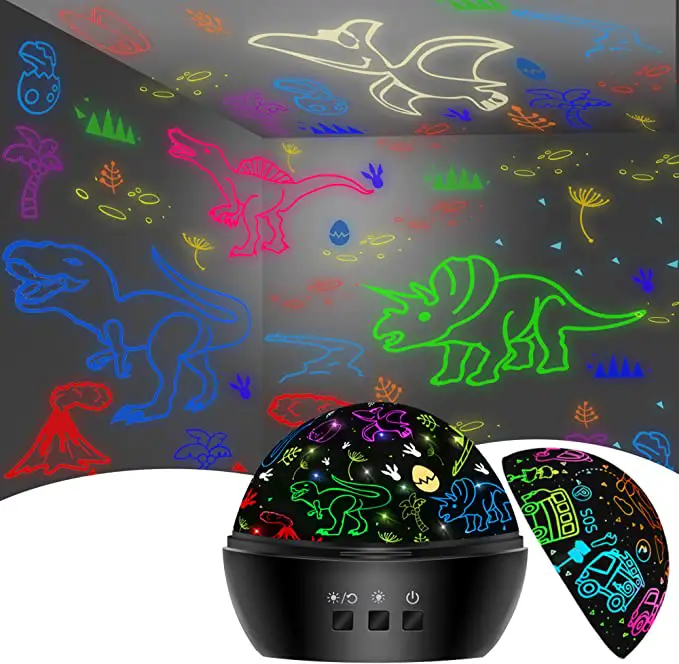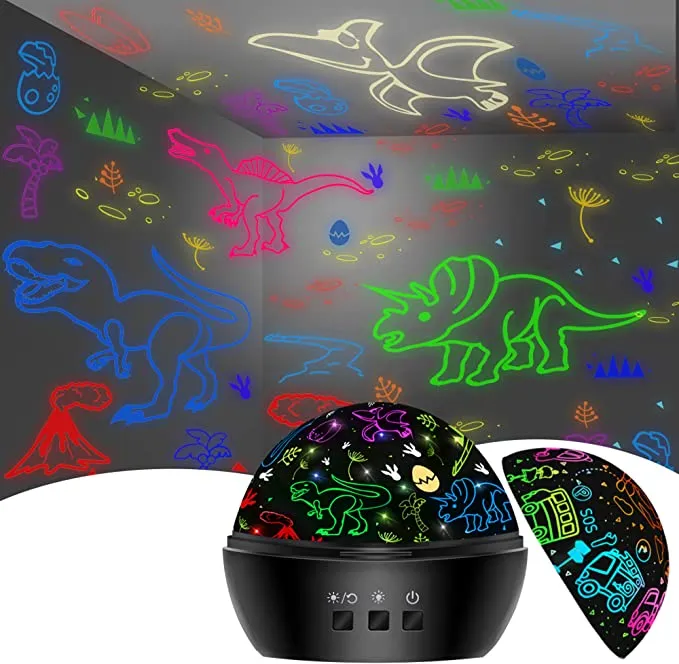 (Size: 5.4*5.2*4.4in | Light: Projector light | Price: $)
This round LED projector creates fun and colorful dinosaurs, paws and plants, and egg shapes on the walls of a room in a 360 motion. Although it is sold as a dinosaur light projector, it actually comes with 2 projector domes (a dinosaur-themed dome and a construction-themed dome), which you can easily switch to change things up. It also comes with a USB charging cable and can be battery-operated.
Why we like it: It is great for when you want to instantly create a fun, party atmosphere in any room, for example for a child's birthday party. The unit itself is pretty compact but don't let it fool you, the light is strong enough to fill the whole room.
Thowing a Dinosaur Birthday Party? Check out our guide here: How to Throw An Epic Dinosaur Themed Party (Including Free Ideas)
Best 3D-Realistic Night Light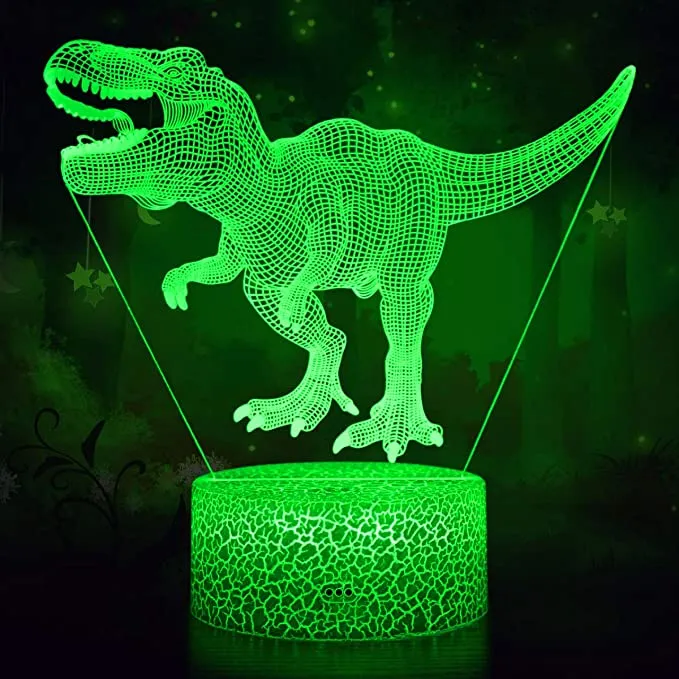 (Size: 8.66″D x 5.51″W x 2.17″H | Light: LED light with adjustable brightness | Price: $)
This is a hyper-realistic optical 3D T-rex light model for true dinosaur lovers. The lamp itself is in the shape of a thin translucent acrylic plate that sits on top of a round base. When switched on, the light from the base shines through the acrylic fiberglass plate, creating an intricate dinosaur that looks like a 3D-rendered model right from Jurassic World. It is both remote & touch-controlled so you can change it to show any of the 16 colors available or cycle through them dynamically.
Why we like it: This is your best bet if you are buying a gift for a Jurassic Park fan who wouldn't be content with a generic dinosaur/dragon hybrid lamp. The brightness of the light is also adjustable which is very useful to set the perfect lighting that works for you.
Best Personalised Gift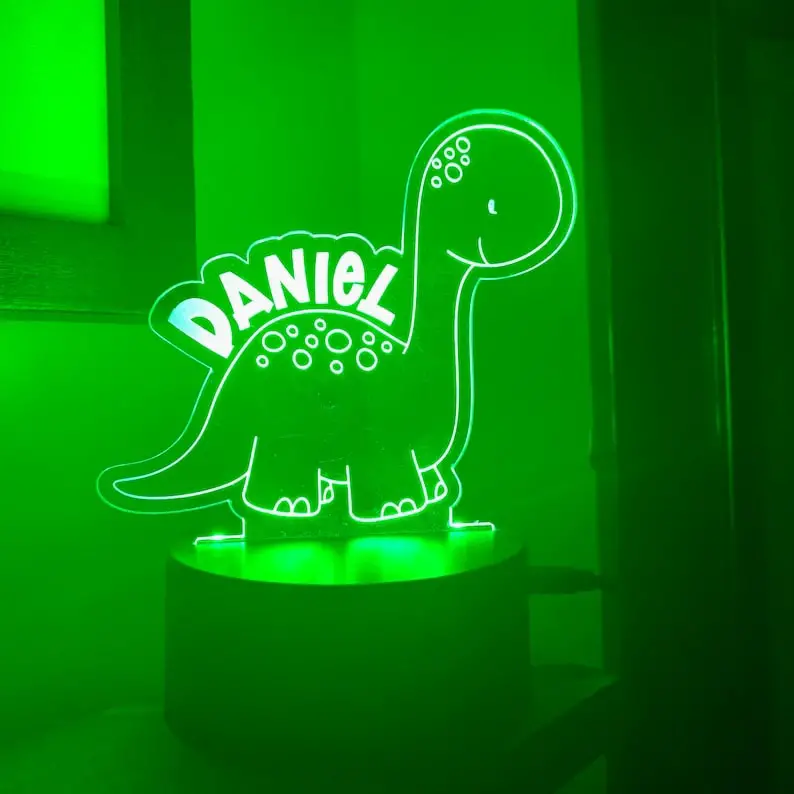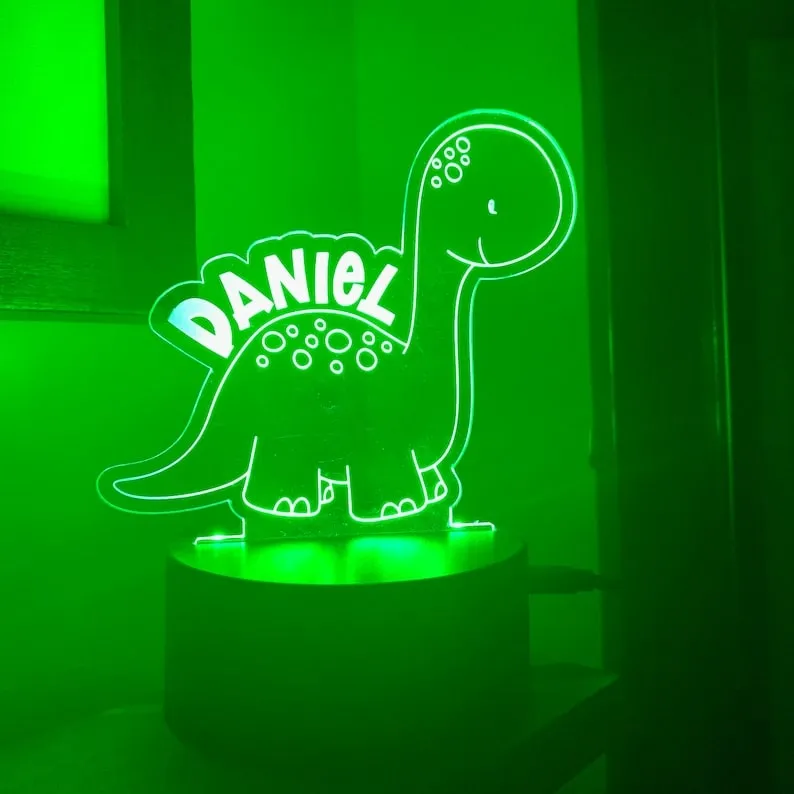 (Size: 5" x 6.5" | Light: LED light with adjustable brightness | Price: $$)
Nothing excites a child more than receiving a gift that is personalized with their name on it. So if you are looking for a unique and memorable gift, look no further! This night light is made of laser-engraved acrylic fiberglass that sits on top of a color-changing LED base. The set comes with a child-friendly, easy-to-operate remote control to cycle through the color schemes.
Why we like it: For under $2, you can personalize the engraving to include your name on the back of the dinosaur! Every unit is made to order and fulfilled by a US-based company specializing in laser-cut products.
Night Lights Buying Guide
Why Use Night Lights
Having night lights at night is an excellent way for parents to check on their kids at night without disturbing them.

They help young children who are afraid of the dark to fall asleep easier. It is not unusual for young children to be woken up by nightmares and dark rooms, which can further feed their imaginations.

They illuminate dark corridors and bathrooms without having to turn on harsh ceiling lights which can help prevent falls without waking you up. This is particularly useful if you are prone to waking up in the middle of the night to use the bathroom.
How to Choose a Night Light
Ease of turning them on and off

Imagine having to fumble for the light switch in the middle of the night while being half awake, which can be frustrating. A night light with an obvious switch or a touch sensor makes it incredibly easy to turn on or off.

Brightness

In general, lights can interfere with your sleep and a very bright one can signal to your brain that it is time to wake up. Many of the options above are either dimmable or are already in a soothing state, which are great for controlling the brightness to suit your room.

The right colour

Warm colours like orange and yellow are better for your sleep than cooler shades like blue. However, as we know, children can be very specific about what they like! So cycle through the colours on your night light to find one that soothes your child.

Suitable profile and shape

If getting your child to sleep is your main goal, we would recommend that you avoid disco lights and go with the most soothing and calming option above. Avoid ones that flicker or create complicated shapes which would stimulate the mind at night. Simple designs are best.
Takeaway
For a young child or a young Jurassic Park fan, a dinosaur-themed night light is a great companion for them at night. Hopefully, our guide has helped you choose a dinosaur night light that works for you, whether you are looking for something to light up the room and stimulate your child (like a disco light), a gift for a special one, or just something to stop the room from being totally pitch black at night in your nursery.