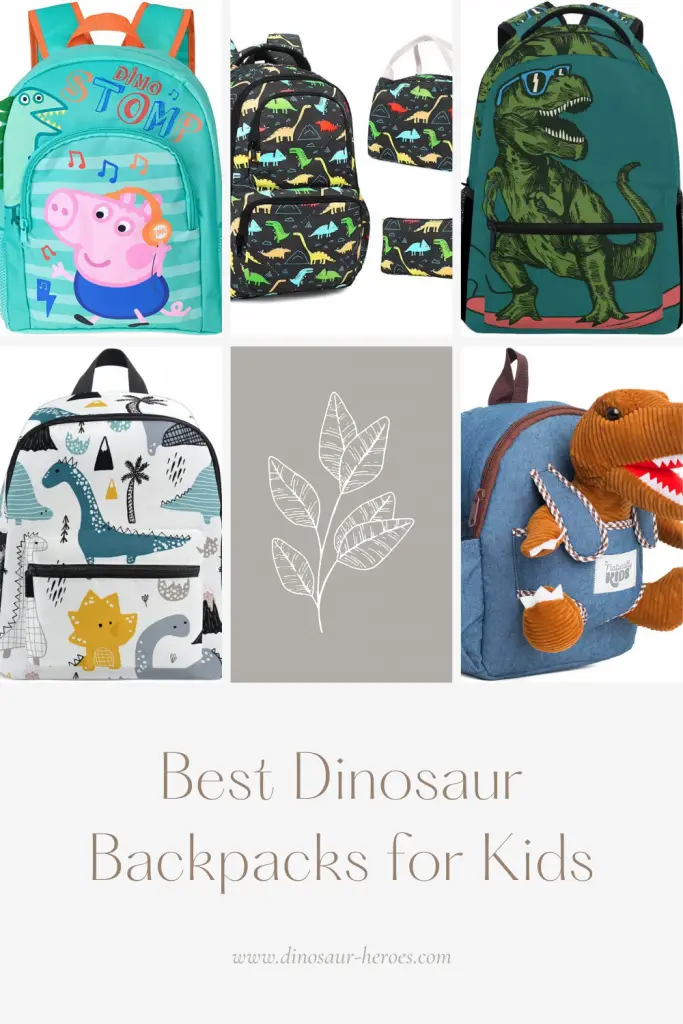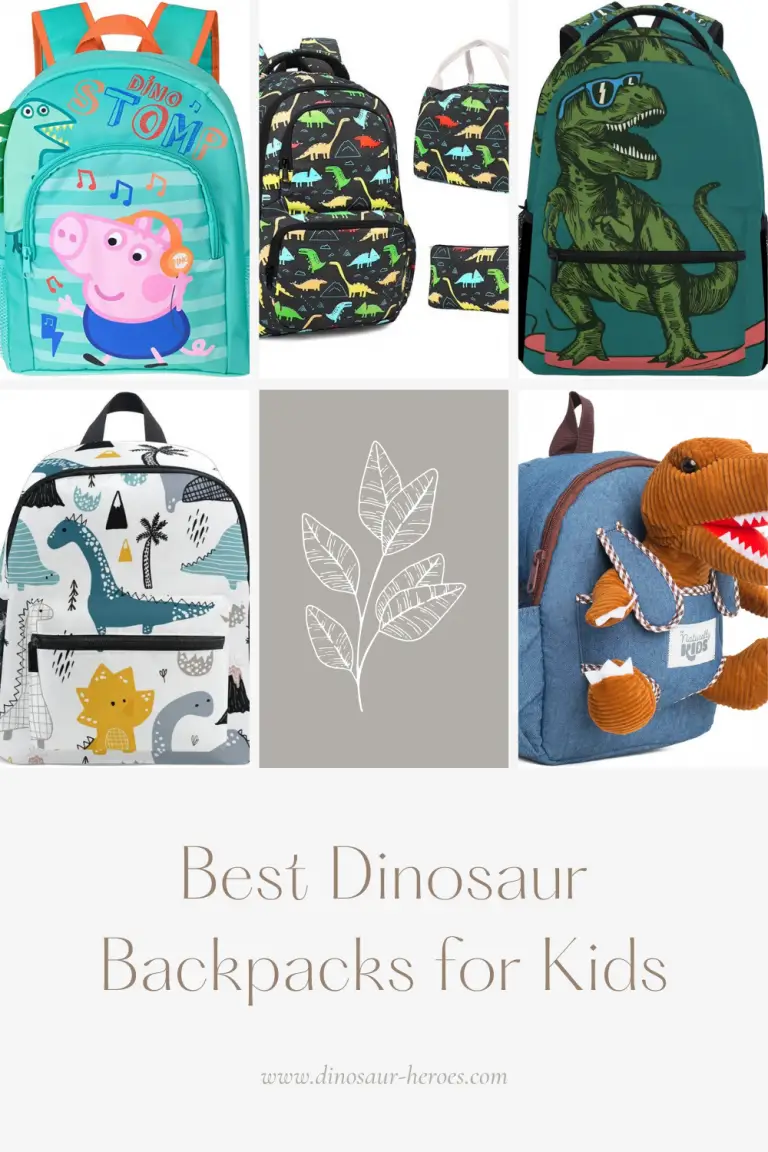 Our editors independently research, test, and recommend the best products. We may receive commissions on purchases made from our chosen links.
For the dinosaur obsessed kids, a dinosaur-themed backpack is the ultimate must have item to display their affection everywhere they go. The options can range from the smaller backpacks perfect for toddlers to larger ones that can fit workbooks and binders for school children. 
When purchasing your backpack, consider the age and size requirements. Would you need one for toddlers that just fits some spare clothes? Or one that can hold lunchboxes and school work?
Below are some of the best options we've found for dinosaur backpacks. 
Dinosaur Backpack For Kids – Our Top Picks
For Toddlers and Preschoolers (Aged 3-5)
Most toddlers do not need a huge backpack, especially if they are carrying the backpack themselves to preschool, nursery or any other childcare settings. Usually, they will require a set of clothes to change into in case they soil the ones they are wearing (hello, potty training!), a lunch box and snacks and a water bottle.
Backpacks for toddlers and pre-schoolers should have a smaller frame to fit their body. Ideally, we would also recommend backpacks that are easily cleaned or machine-washable because they are bound to get their backpacks dirty often.
Naturally Kids Backpack with A Cuddly Toy
(Best for Preschoolers – $$)

Age suitability: 2+ | Size: 8 x 10 x 3 inches | Features: Detachable plush toy

What it is: A soft denim backpack with a detachable tyrannosaurus that can be taken to bed for naps. Contains 1 main compartment for spare clothes and a lunch box, and 2 side pockets for water bottles. The shoulder strap is adjustable.

Why we love it: This small, breathable and lightweight bag is a perfect first backpack for little kids to learn to carry their own belongings, whether it is out for a short walk in the park, or to the grandparents' house. What's more, the cuddly T-rex toy is a huge bonus and can keep the little ones company during nap times. Chelsy M said "You can tell it was stitched with care honestly, and my nephew loved the dinosaur and his mom thought it was the cutest thing she'd ever seen."



Cute Kid's Scandinavian Style Toddler Backpack
(Best for Preschoolers – $)

Age suitability: 2+ | Size: 10 x 12 x 6 inches | Features: Machine washable

What it is: A water-resistant, durable backpack with a roomy main compartment to fit books. The bag also has 2 mesh side elastic pockets that fit thermos, umbrellas and water bottles. The shoulder strap is padded and adjustable.

Why we love it: The printed dinosaur design is tasteful and not at all tacky, something that is unusual with kids backpacks. It has enough space for everything you'd need to go to preschool – spare outfits, diapers, milk bottles …and is super easy to wipe clean. DPoh said "My 2 year old daughter adores it. The size fits her well and the chest clip makes it more secure. She is also able to clip it all on her own. The interior is very roomy. A good buy."



Official Peppa Pig George and Dinosaur Backpack
(Best for Peppa Pig fans – $)

Age suitability: 2+ | Size: 13 x 11 x 4 inches | Features: Official Licensed Pippa Pig merchandise

What it is: A Peppa Pig themed backpack featuring Peppa's little brother George and his favourite friend, Mr. Dinosaur. The bag has 1 main large compartment and 1 small front zippered pocket for smaller items.

Why we love it: Any Peppa Pig fan will know that her little brother, George and his dinosaur toy are inseparable, making this the perfect gift for any toddler who loves both Peppa Pig and dinosaurs. The bag is playful, colorful and of good quality. Kimberly said "George Pig is hard to find due to Peppa being the star. This was a hit for my grandson who is a huge fan of the show (especially George and his dinosaur) He's very happy."


Related Post: Dinosaur Presents For Kids Under $30
For School Children and Kids
When it comes to dinosaur backpacks for school children, you are looking for backpacks that are sturdy, breathable and can fit binders or study materials that your children will need at school. We'd always recommend backpacks over cross-body satchels that hang on one sholder to prevent an uneven distribution of weight on children's backs.
Some backpacks have mutliple compartments to keep things separate, which is useful especially when you have dirty PE kits, electronics and water bottles to consider. Sometimes, just having a backpack may not be enough, for example when your child is required to bring their own packed lunch, or when you are packing for an extended day trip. Some of the options below include multiple bags in a matching dinosaur-theme – a backpack, a lunch bag and a pencil case.
Senya Dinosaur School Bag
(Best for Pre-teens – $$)

Age suitability: 5+ | Size: 16 x 11 x 8 inches | Features: Wipe clean design

What it is: A deep colored, heavy duty school bag for dinosaur-obsessed children. Contains 1 main compartment with 4 inside compartments to keep iPads, notebooks and snacks separate. It also has one front zipper pocket and 2 mesh side pockets.

Why we love it: Most reviews suggest the backpack is durable and easy to clean, which of course is great for those active little children at school assembly. Another bonus is that the bag can stand up on its own when empty, which makes packing their own bags that much easier. One reviewer said "My 8 year old dinosaur fanatic son absolutely loves this backpack. I was concerned it wouldn't be big enough for my son's binders, etc.., but it is a great size and plenty big enough to hold his folders, binders, and even his lunch box. "




The Complete Dinosaur School Bag Set
(Best Budget-friendly Set | Price – $)

Age suitability: 4+ | Size: 16 x 12 x 5 inches | Features: Matching lunchbox & pencil case

What it is: A matching set of 3 bags – a backpack, a lunchbox and a pencil case, all printed with the same unique and vibrant dinosaur design for a cool kid look.

Why we love it: For anyone who likes to keep things tidy and organised, this is definitely the one to get. This wallet-friendly set alone comes with 3 separate bags – a backpack large enough to fit A4 standard folders, a separate lunchbox with handles and a pencil case. You can even extend the collection to include a kids luggage!




3 in 1 SKL Dinosaur School Bag Set
(Best gender-neutral set | Price: $$)

Age suitability: 4+ | Size: 16.5 x 13.4 x 6.7 inches | Features: Matching insulated travel bag & pencil case

What it is: Another 3-in-1 school bag set including a backpack, a travel day pack and a pencil case, all printed with matching colourful dinosaur designs.

Why we love it: The main backpack contains 4 compartments of different sizes to ensure everything from laptops to books have their own place. Its elasticated side pockets can hold umbrellas and water bottles, and the separate travel day pack is great for keeping your child's lunch cool. An ideal off-to-school gift for a primary school kid.



---
What to look for in a dinosaur backpack for kids
Age of the child
By far the most important factor is of course how old the child is. This determines what kind of features you might want for the backpack, how big the backpack needs to be, and even some design preferences – will you want more colourful designs or should you get a backpack with more muted colors for when your child grows older?
Features
Some backpacks come with chest straps to keep the backpack secure, which is beneficial for younger kids who are still learning how to keep the backpacks on their backs. Others have separate compartments to keep things organized, insulated linings for lunch boxes, and padded shoulders.
Size
If the child you are buying for is going to be using the backpack to go to school, make sure to choose a backpack that can fit the school materials he or she will be carrying, such as A4 sized folders. Most of the ones listed above for older kids will be fine, but be sure to check the measurements before you buy!
Material
Some parents prefer backpacks that are soft and breathable for comfort, others prefer a wipe-clean material that can be easily washed and cleaned. Just be mindful that most prints fade overtime when washed, but a good quality backpack should stand the test of time.
Related Post: Dinosaur Presents For Kids Under $30
---
Takeaway
Finding the perfect backpack for your kids isn't always easy. Remember that designs on backpacks are forms of self expression for your children, so why not get them involved in the process of choosing one! Who knows, if there is a dinosaur backpack that your child absolutely adores, it might even encourage him or her to get ready for school themselves!