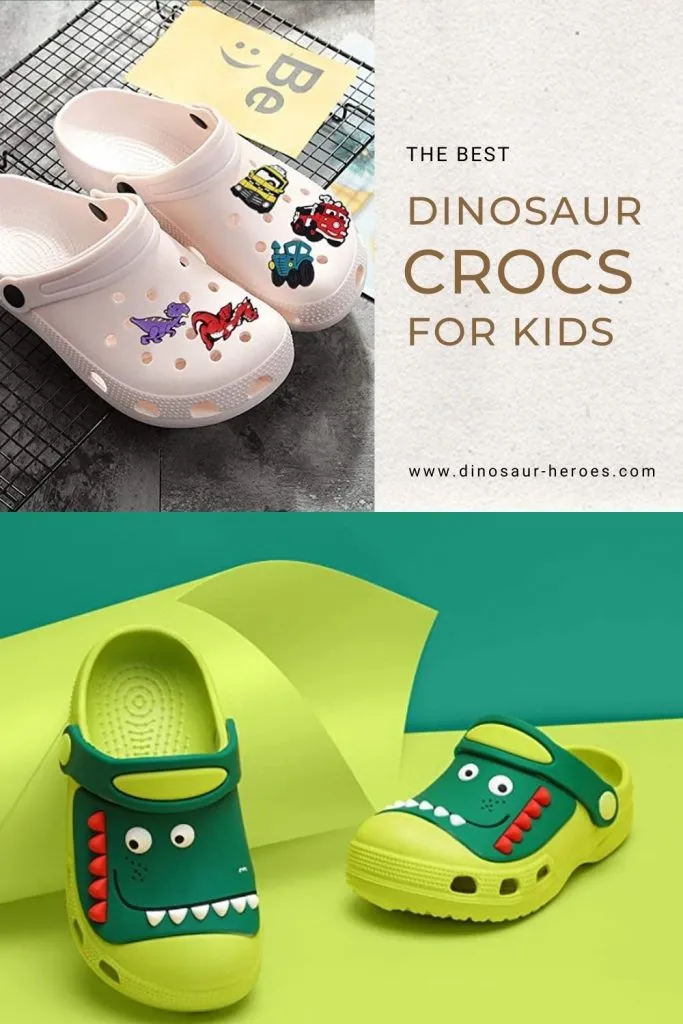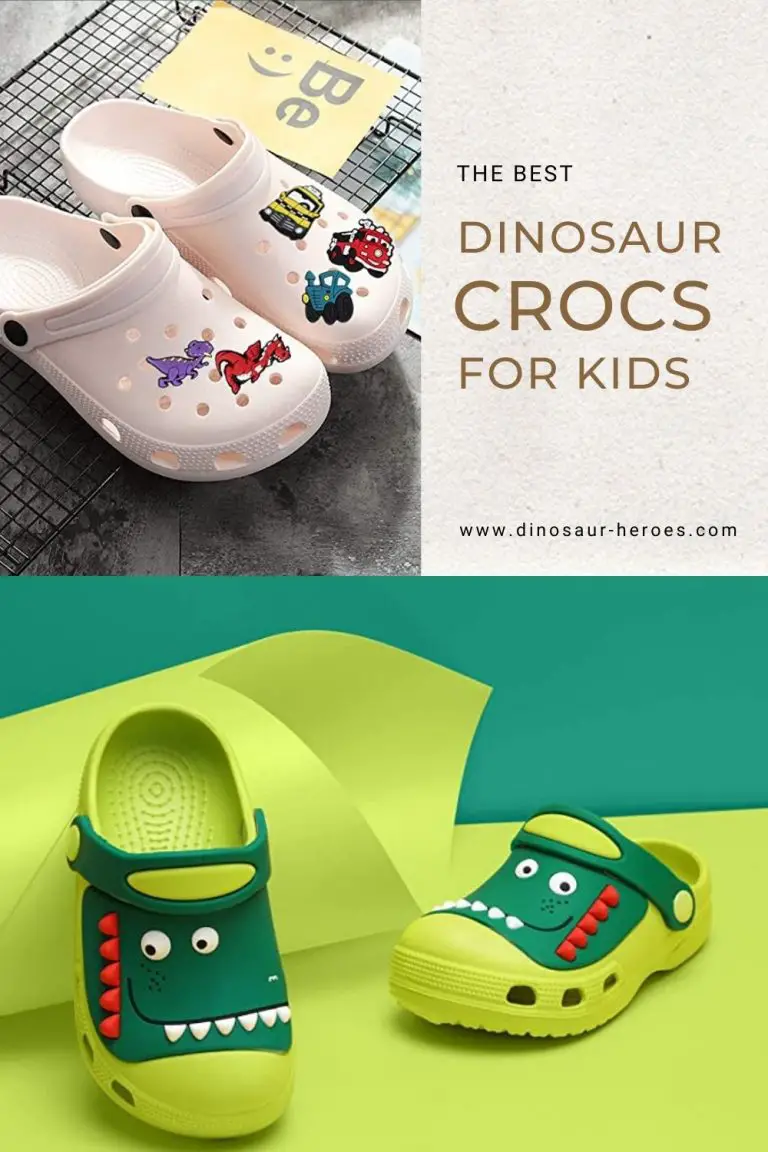 Crocs are brilliant for busy parents worldwide. They are super versatile, children love them, and best of all, they are incredibly easy to clean, keeping them looking fresh and new for much longer than a regular pair of canvas shoes. For dinosaurs-loving kids, a pair of dinosaur crocs are great to add a little bit of character to otherwise plain crocs. Unfortunately, these are harder to come by in your regular stores than say, a Paw Patrol one, but fear not! We have scoured the internet and found 8 Dinosaur Crocs (both Official Crocs and also non-branded alternatives) you can buy for your kiddos. Here's the round-up.
Best Dinosaur Crocs For Kids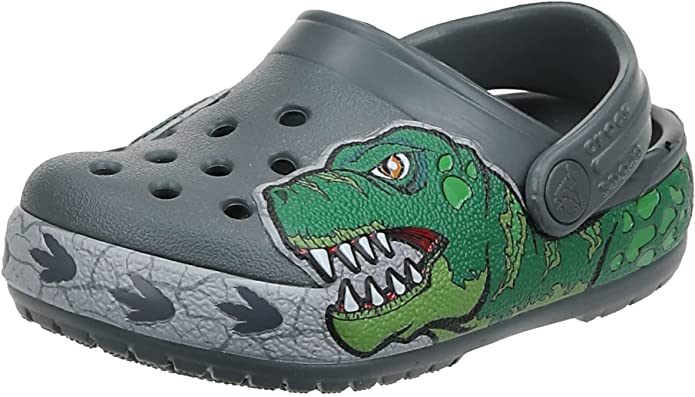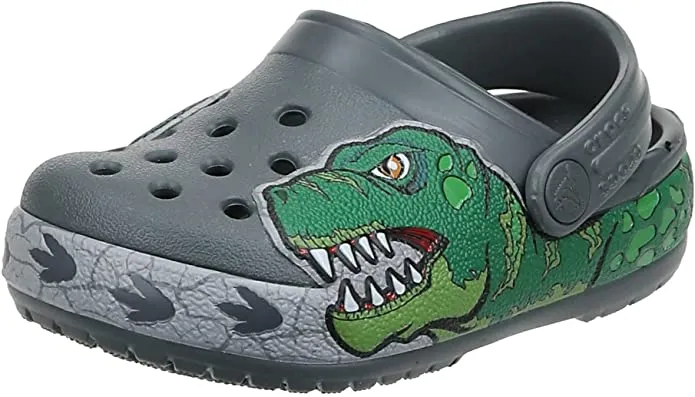 (Size: From toddler size 8 to child size 2 | Price: $$)
If you are after a pair of Original Crocs with Dinosaur patterns, this is the one for you. Unfortunately, this is also the only pair we've found on Crocs that is dinosaur-themed, and it regularly goes out of stock (if you happen to see that it's in stock when you click on it, you're in luck!). It features a ferocious-looking green dinosaur across the sides and back on a pair of grey Crocs with pivoting heel straps. As with other Crocs shoes, this pair is also made of Croslite foam on the outside, which is a fancy term for a type of material that gives you lots of cushioning support and is non-toxic and naturally anti-bacterial.
Out of stock or not the style you are looking for? Don't worry, we have some other options for you including non-Crocs branded "Clogs" and other creative ways to design your own Crocs. Read on to find out how.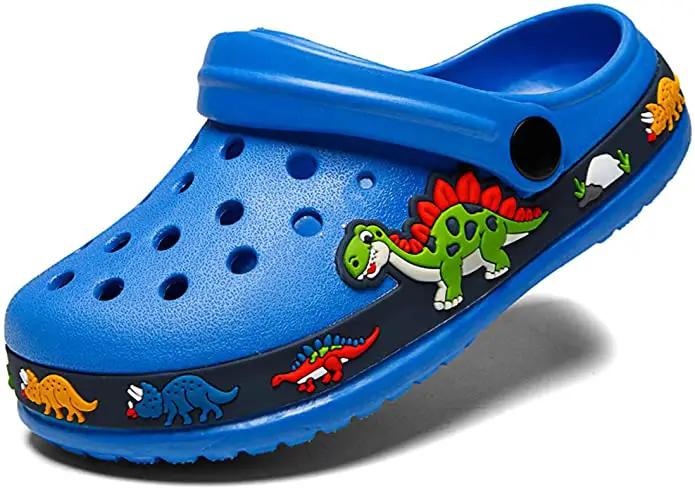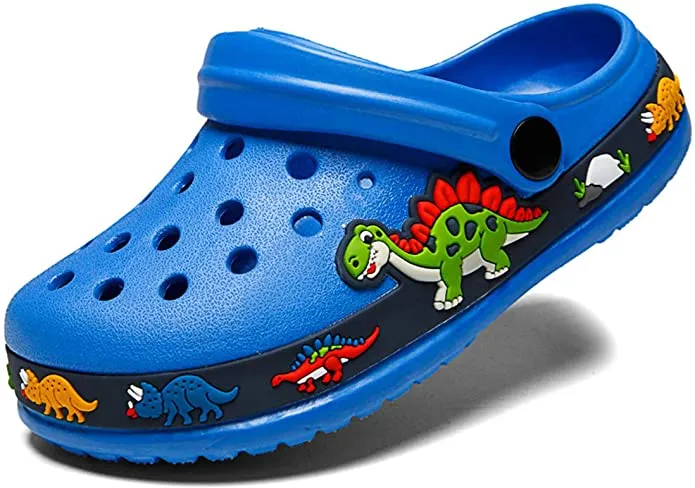 (Size: From toddler size 8 to 13 | Price: $)
At about half the price of an original Crocs, this pair of Clogs from FolHauth is a great alternative for dinosaur-loving kids. It uses a similar EVA (Croslite) material as Crocs, which means it is also naturally lightweight, durable, anti-odor, and easy to clean. This pair of dinosaur-patterned Clogs is bright blue in color, but there are 3 other color options if you go with other themes, namely butterfly, unicorn, and construction. If you are worried about the quality of this pair of non-branded Clogs, hopefully, their over 2,000 average 4.5 out of 5 stars ratings can put you at ease.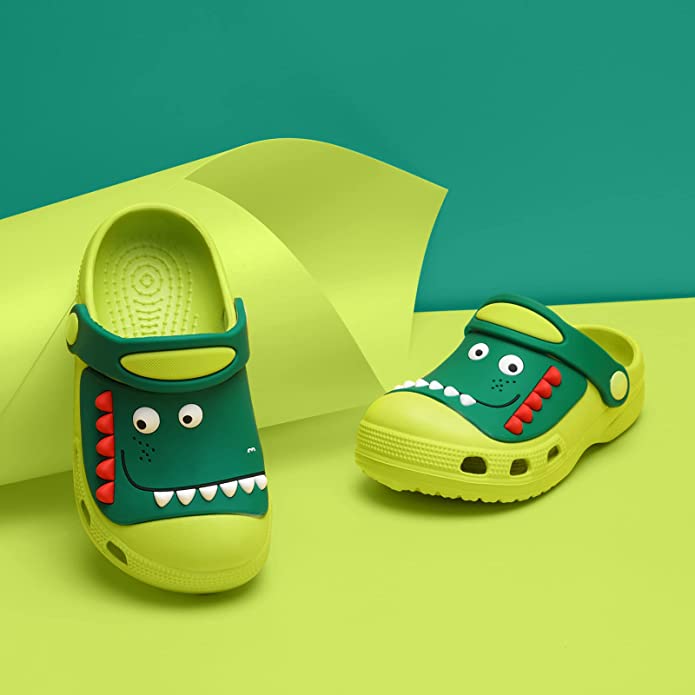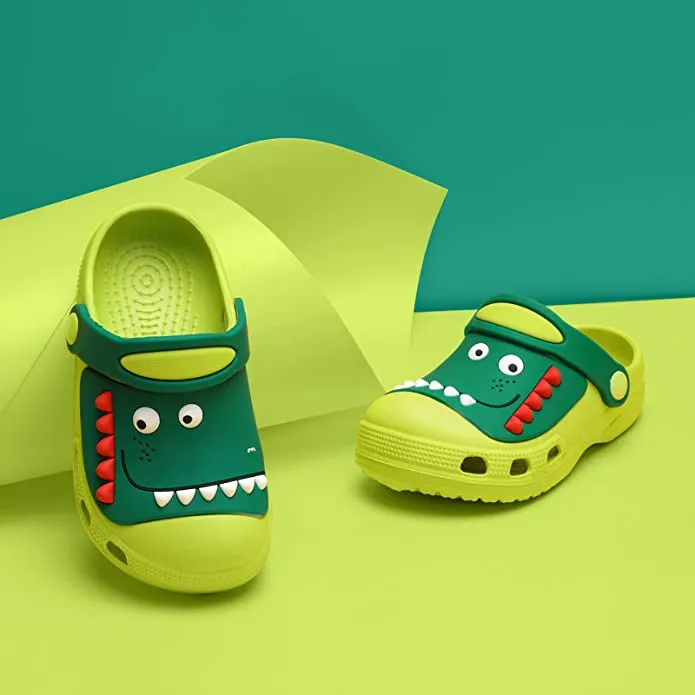 (Size: From toddler size 5.5 to 12.5 | Price: $)
Another popular option for toddlers (I've seen kids wearing this exact pair in the playground) is this pair of non-Crocs branded clogs that features a rather toothy, almost crocodile-like dinosaur. Their color options are playful and vibrant, and from the reviews, it looks like kids absolutely love this dinosaur/crocodile hybrid character on the clogs. Reviews are generally positive about how durable the clogs are – a perfectly good value for money option that is way cheaper than an original Crocs.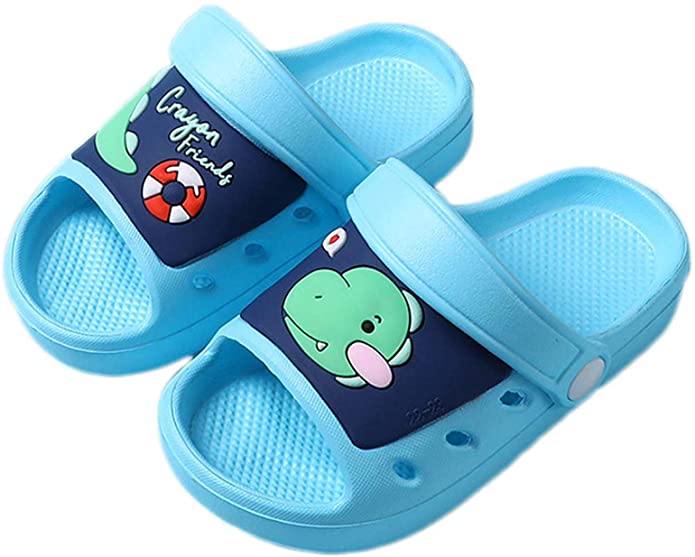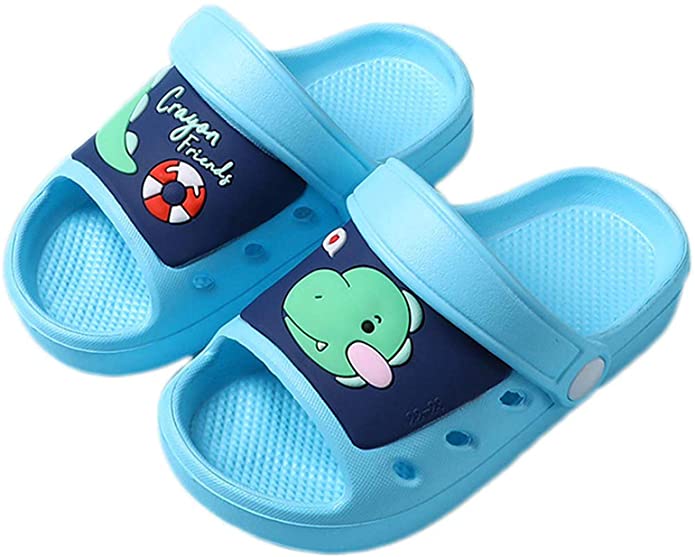 4. Celanda Dinosaur Beach Sandals
(Size: From toddler size 5.5 to 12.5 | Price: $)
For boys and girls that prefer open-toe slip-on sandals, Celanda has a pair of light blue waterproof beach sandals with a very adorable dinosaur design across the front. The sole is similarly ultra-padded with makes it comfortable for kids to wear on a long active day on the beach or pool. With the adjustable heel straps, kids can wear them like slip-on sandals or pivot the straps to the back for added heel support. At the time of writing, they have 4 different base colors in a dinosaur theme – light blue, dark blue, pink, and red.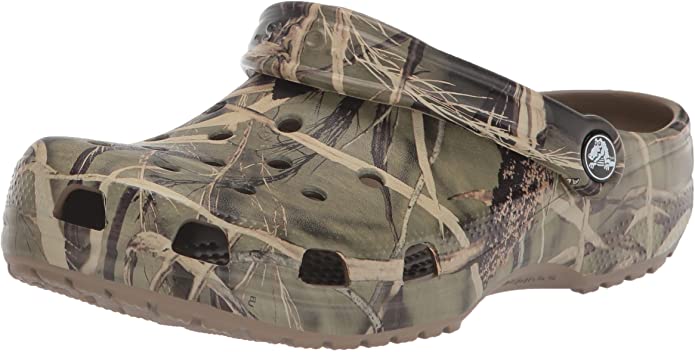 5. Khaki Camouflage Crocs – Original Crocs
(Size: From toddler size 4 to little kid size 6 | Price: $)
Okay, we know this isn't exactly dinosaur-themed, but because we've only found one pair of Dinosaur Crocs shoes, we felt we had to dig deeper for something that might still appeal to our little troopers. This one is a realistic-looking tree camouflage Crocs (an original Crocs) that is perfect for kids to pretend to be dinosaurs and stomp around in the garden or the outdoors (pretend dinosaur hunting trip, anyone?). They even have 3 different styles of camouflage to choose from, so that your child can really blend into their surroundings.
Creative Dinosaur Crocs Options
We realize the options may be a little limited if you are looking for crocs with dinosaurs on them, especially if you are only looking to buy something from the original Crocs brand. To help overcome this, we noticed some parents (and kids) have started using Croc Charms to decorate their Crocs. You may be more familiar with sneakers art – a popular method of personalizing sneakers to your specifications. Crocs Charms (aka Jibbitz) are similar – you'd buy little charms with studs that fit onto the holes on top of a standard pair of Crocs to customize it.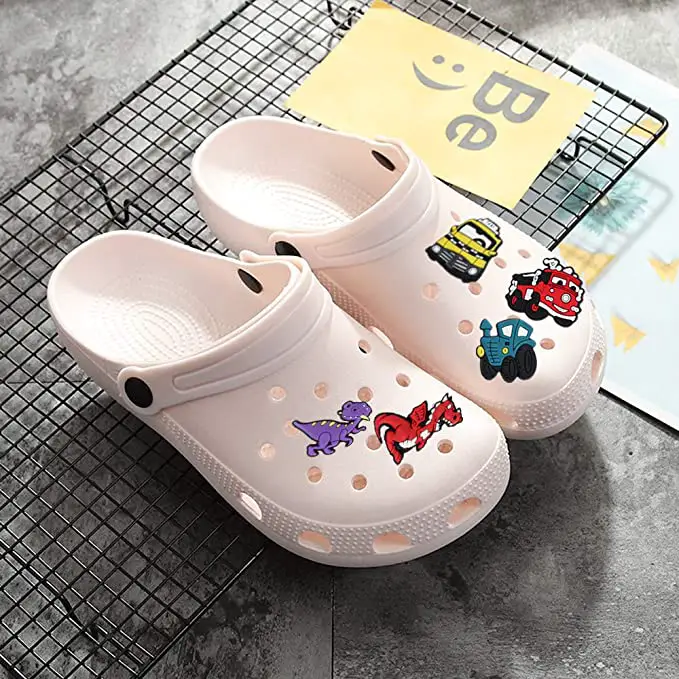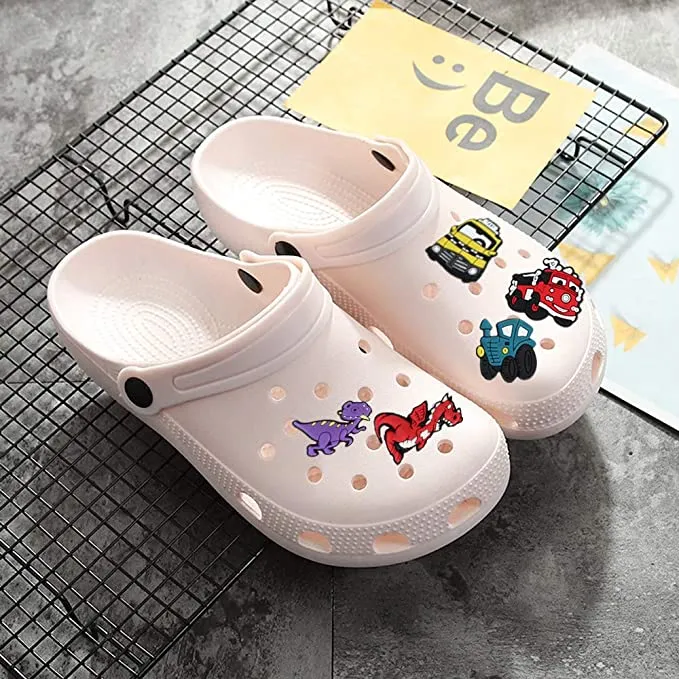 So how do you make them? It's pretty simple really. First, you'd start with getting a pair of standard Crocs for your child – plenty of options in the Crocs store for this! Just make sure you choose a pair with holes on them to place your charms on. Next, choose the dinosaur charms you like to fit on. We've listed our favorites below.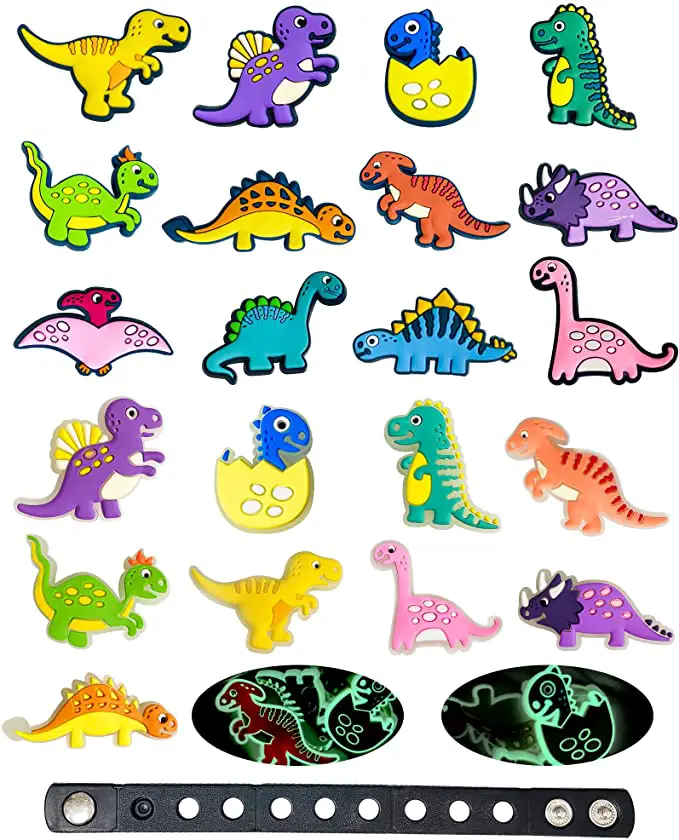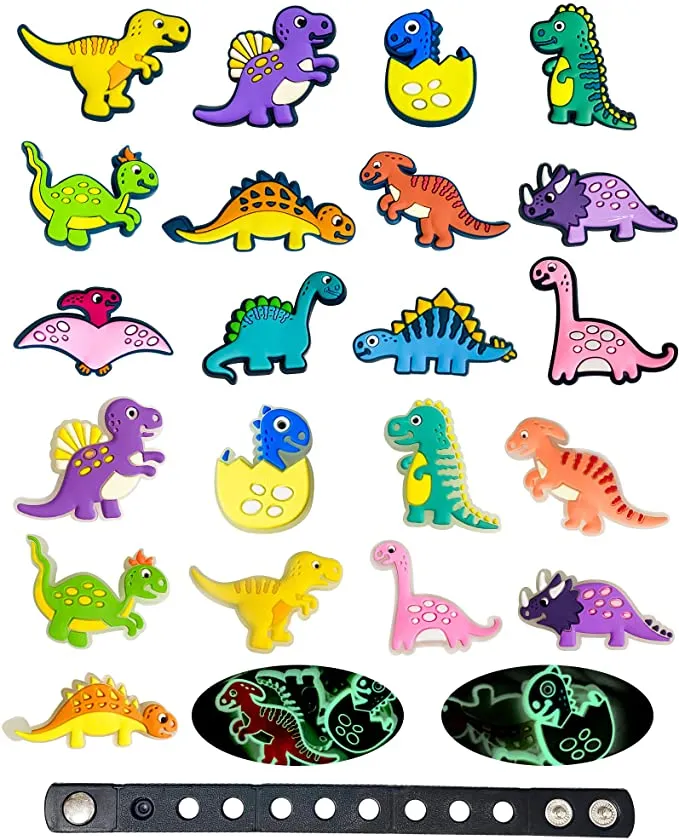 6. 21 Piece Dinosaur Crocs Charms Set
A great value for money option for money-conscious parents everywhere. This set includes 9 glow-in-the-dark and 12 dinosaur charms to decorate your shoes. Each charm is made with highly bendable and waterproof material, in keeping with the texture and style of Crocs shoes. The seller also included a free pair of bracelets to wear the charms on wrists. Perfectly delightful gifts for little boys and girls.
Here are 2 more dinosaur charms set we've come across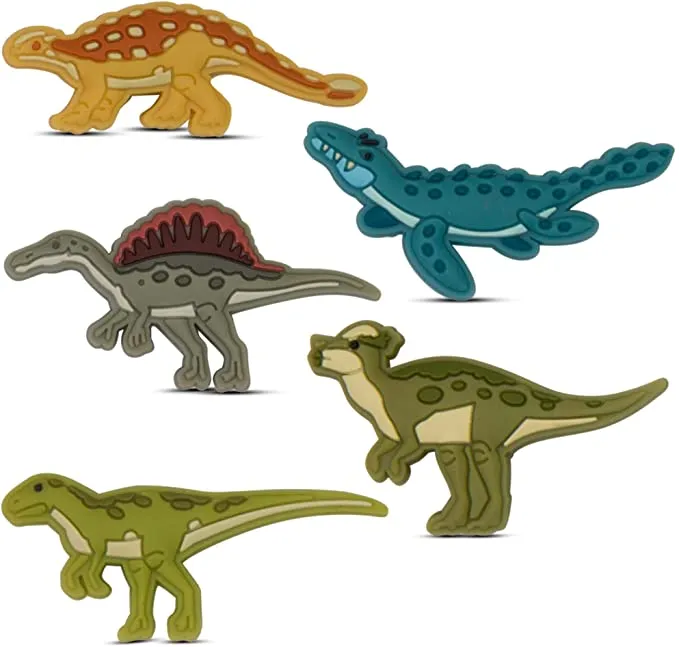 7. Leapees 5 Piece Dinosaur Crocs Charms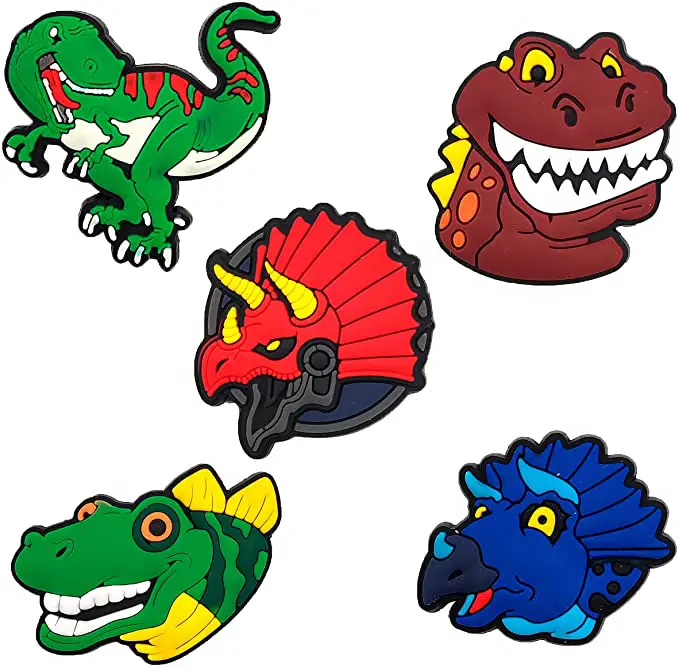 Related Post: Best Dinosaur Shoes for Kids (That Are Actually Good for Their Feet)
What are Crocs and Why Are They So Popular?
Before we go any further, let's answer some basic questions about this popular footwear you keep seeing on the streets. Crocs was founded in 2002 by Lyndon Hanson and George Boedecker after the two of them came across a kind of non-rubber, non-plastic foam material that has antimicrobial properties (now known as Croslite). At first, they used this proprietary technique to make boating shoes, but have since branched out to make day-to-day footwear. Here are some of the unique features of Crocs Croslite:
Lightweight – The foam-like body makes it featherlight, compared to a pair of leather or canvas/rubber shoes that seems to give your feet a workout just by putting them on.

Comfortable – Many loyal Croc fans (adults and kids alike) love how comfortable they feel on their feet. At one point they were even listed as an accepted shoe on the American Podiatric Medical Association and are worn by many people who work in jobs that demands all day standing.

Waterproof and breathable – Waterproof shoes are usually not breathable – think waterproof boots. But thanks to their now iconic holey designs, Crocs became the go to footwear for a trip to the beach, muddy parks or poolside activities.

Easy to Clean and durable – Soup and water is all you need to clean a pair of Crocs. No need for any other fancy brushes, detergents and polishes. They are also long-lasting and keep their shape and colour well, making it a cheap and worthwhile purchase.
---
Why Design Your Own Crocs?
Between the two methods – buying a pair of dinosaur crocs and adding your own dinosaur designs to a plain one, I personally prefer the latter. This is why:
A fun activity for the kids – Kids as young as toddlers love creating with their hands. Crocs Charms (Jibbitz) decorating is a simple & fun afternoon activity for your kids to practice their dexterity and creativity.

Sense of ownership & pride – Any parents can tell you how challenging it can be to get young kids to get dressed and ready to leave the house. Hopefully having a pair of shoes that they've "designed themselves" (we use the term design loosely here!) give them that little bit of extra incentive to put it on (and keep it on), making the chore of getting dressed just a little easier.
---
Takeaway
Hopefully, you found this guide to buying a pair of dinosaur crocs useful. Whether you ultimately choose to buy a pair of dinosaur Crocs shoes, an unbranded version or design them yourself using Jibbitz charms, we hope you find one that your kids will absolutely love!