To throw the perfect dinosaur party, you need dinosaur-themed decorations, party stationeries, food, favors and most importantly, activity ideas to keep the little guests entertained. In this guide we've included free, DIY and budget friendly ideas to help you throw the best dinosaur themed birthday party without breaking the bank.
Bonus: Scroll to the end for our Dinosaur-Themed Party Planning Check List to make sure you have everything covered.
Dinosaur Party Invites & Thank You Cards
It is useful to send out party invites before the big day itself to inform your guests about the event. This should include details like where and when the event is going to be and whether food and drinks will be provided for your guests (noone likes to be hungry at a party!) Of course, if you are throwing a dinosaur-themed event, you should also make it clear on your invite whether you expect your guests to turn up in costumes.
We've included both free and paid invitation templates in our list below. All you need to do is download the files, edit the invitation to include the correct details of the party, and send them off.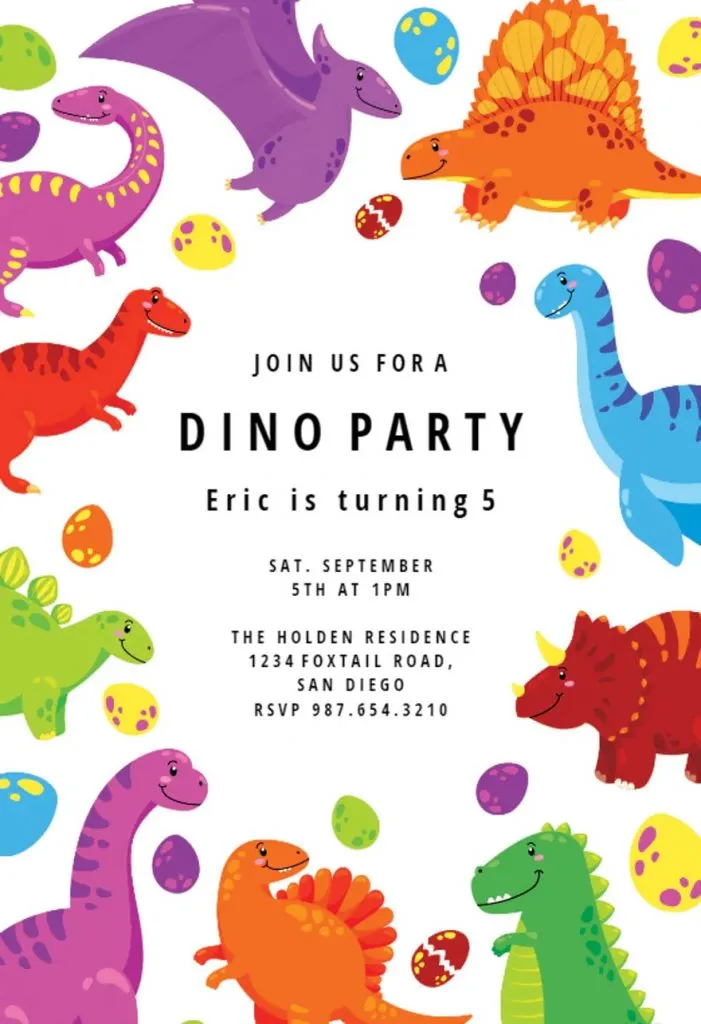 Free Colorful Dinosaur Birthday Invitations
Fully customizable dinosaur-themed birthday invitations in 5″ x 7″ inches. Available to download and print for free. Premium options are also available.
Get it Free on Greetings Island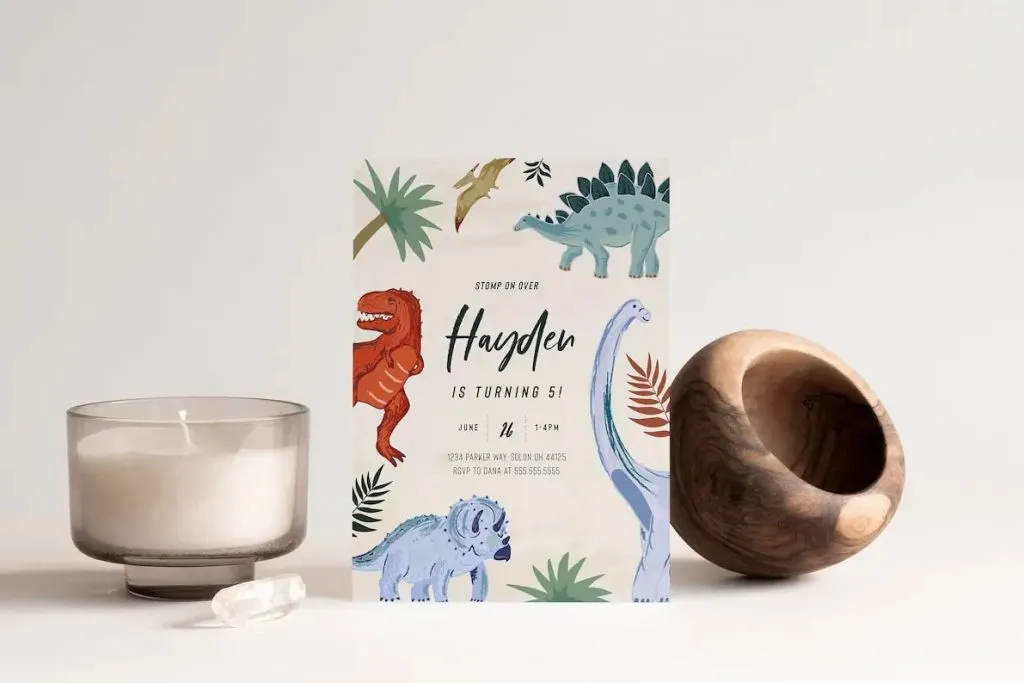 Beautiful Dinosaur Birthday Invitation by Paper & Ink Design Co
What we love about this is that they are NOT in the typical green theme, unlike most other dinosaur-themed stationeries.
If you worry whether they will fit into your other party decorations, fret not! They have matching favor tags, welcome signs, cupcake toppers, thank you cards, water labels and even milestone boards. Perfect all-in-one solution in a neutral dinosaur theme.
Dinosaur Themed Decorations
Next, you will need to decorate your venue in a dinosaur theme. Again, you have two options.
The first is to DIY the entire process using printables (like the one linked below). From favor tags to large dinosaur welcome signs, grab and of the free templates below and print them out a using high-quality, colored printer. All you need are a pair of scissors, some tapes and strings to completely convert your room into the pre-historic world. I've done this many times for various events, including baby showers, children's birthday parties and events, and my guests have always loved the decorations and are surprised that I did it all myself.
However, even though it looks simple, even cutting simple shapes can take a lot more time than you'd anticipate when there are so many to do. Which is why I'd recomment the second option, which is to just buy a pre-made set of decorations that comes with dinosaur-themed balloons, rain curtains and buntings for parents who just need to get things done quickly. For just twenty bucks or so, you can save hours of work and easily create a pre-historic party atmosphere in your room.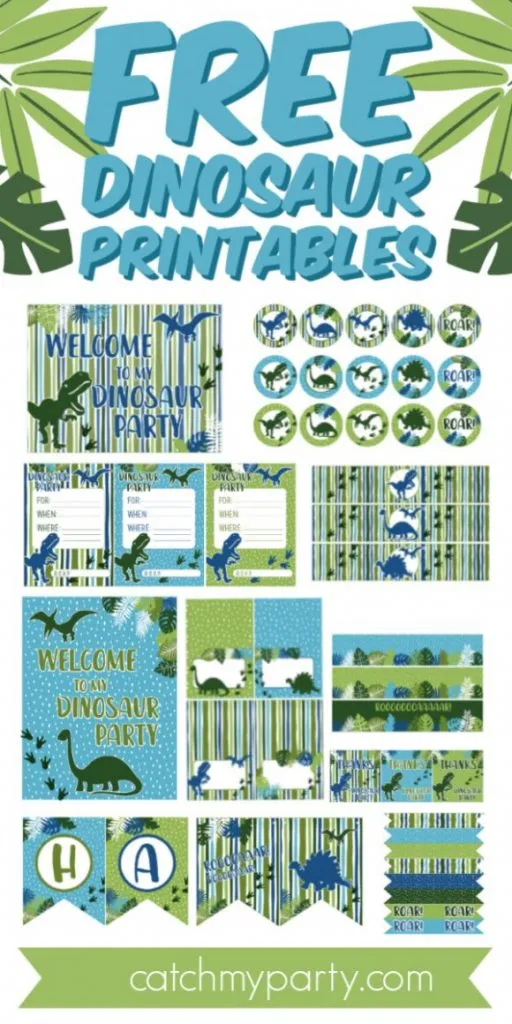 Dinosaur Birthday Decoration Collection
Another option for a whole colletion of printables including favor tags, cupcake toppers, food cards, dinosaur welcome signs, water bottle lables and staw flags. In a blue and green theme.
Download it for FREE on Catch My Party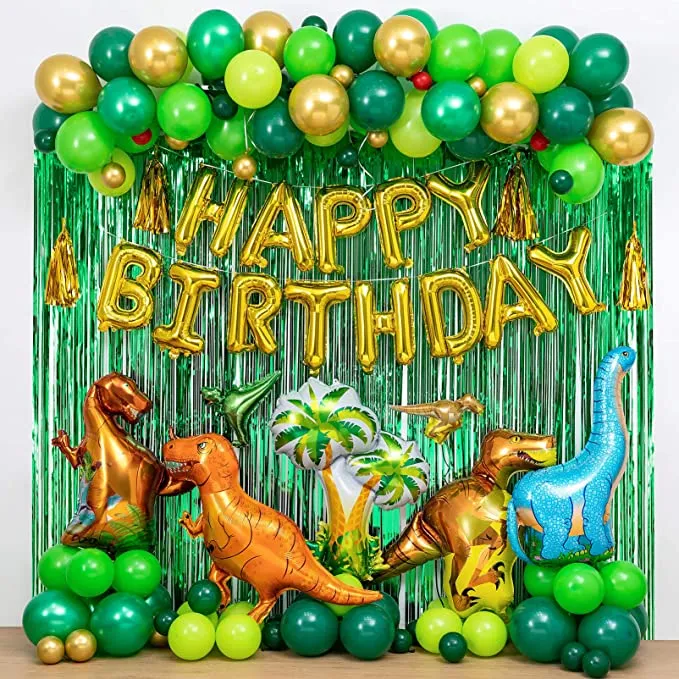 LFVIK Complete Dinosaur Party Set
Forget printing and cutting party favors and buntings. Go all out with this extremely budget-friendly green & gold dinosaur-themed party set. The set includes ballons, banners, rain curtains… everything you need to create a wow-factor to impress your guests.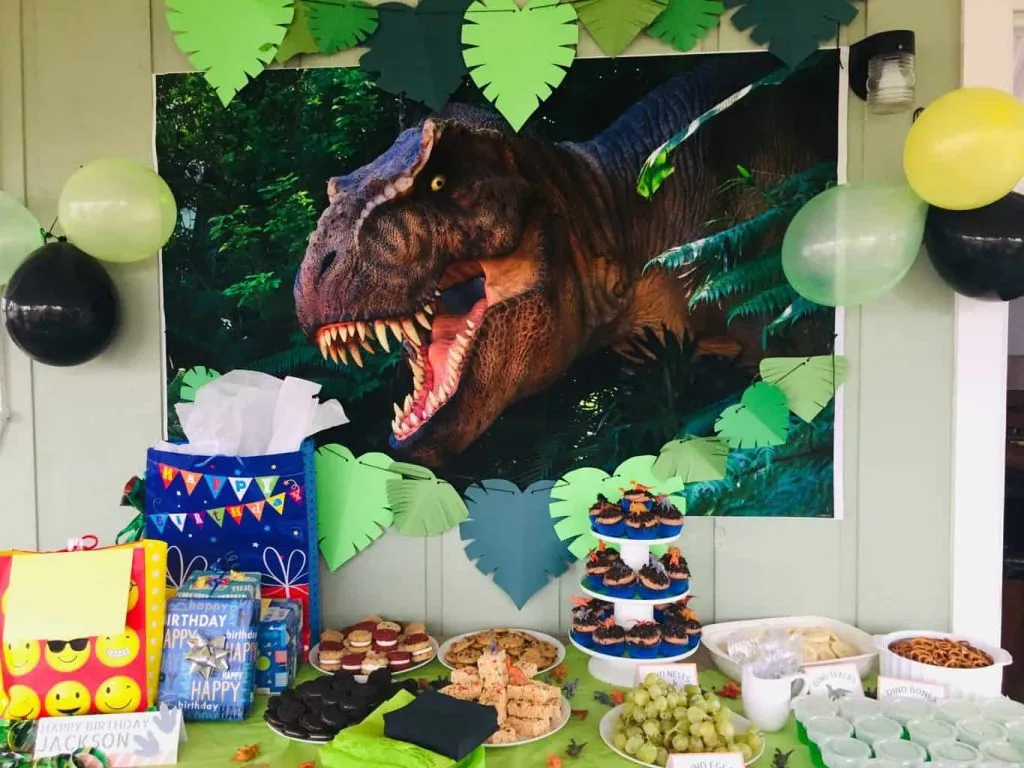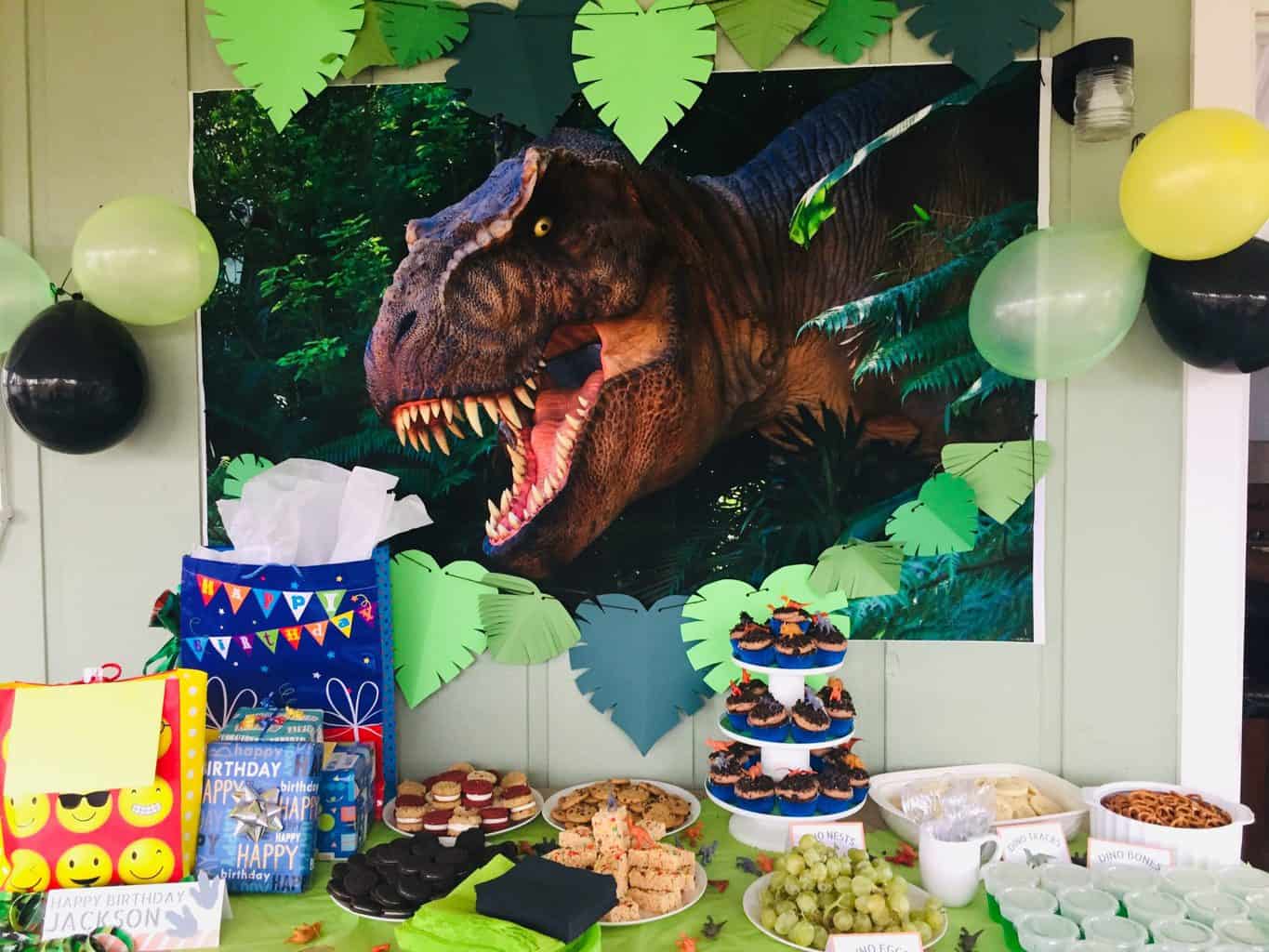 Giant T-Rex Backdrop
For a child that loves dinosuars, there is nothing more exciting that seeing a GIANT (5″ by 7″) version of it on his or her birthday. This is exactly the reaction this mom from Jules and Co received from her son.
Dinosaur Party Favors
A party favor is a small thank you gift given to guests to show that you appreciate their time for coming to your party. This is usually just a token gift and a small gesture from your part, but kids absolutely LOVE receiving these party packs. In this list, we've included a few dinosaur-themed favors. You can print your own gift bags using the party favor printable templates above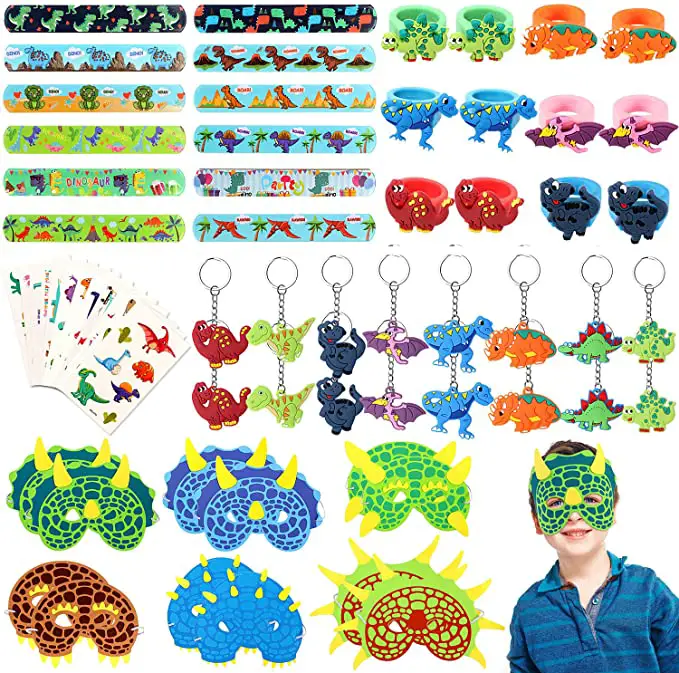 Dinosaur Party Favors
Make sure every kid leaves with something fun to remember the day. The favor bundle includes 64 items including keychains, rubber rings, slap-on bracelets, dinosaur masks, and even temporary tattoos!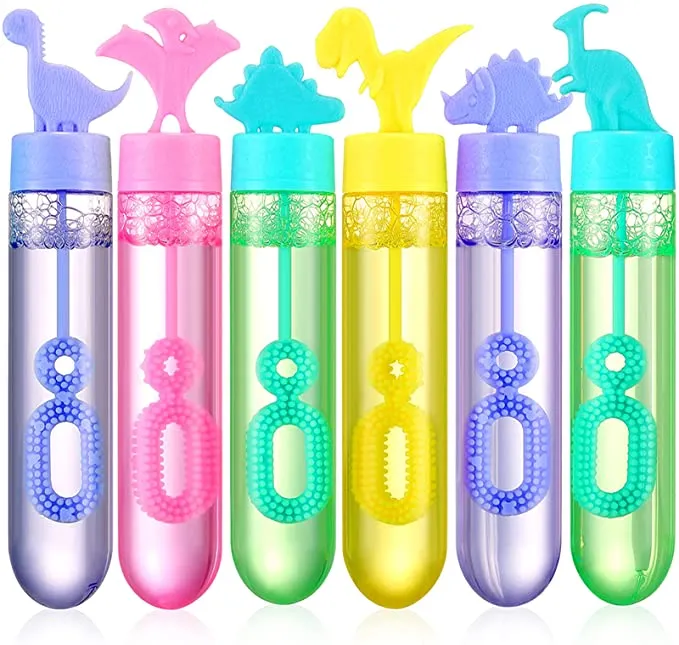 Dinosaur Bubble Wands
I don't know about yours, but my son absolutely loves bubbles. He could spend hours in the bath, and will beg every day to go outside to play with bubbles. I found this fantastic dinosaur-themed bubble wands on Amazon which is very affordable, and perfect to be included in party favors.

This pack comes in a set of 24 miniature bubble wands and can be used at the party or as a party favor for kids to take home.
Dinosaur Party Food
Food is the heart and soul of every party, and delicious food always make guests happy. For a dinosaur twist, order or bake a dinosaur-themed cake, create a dinosaur fruit station, make dinosaur-shaped cookies or sandwiches, and complete the look with dinosaur tableware.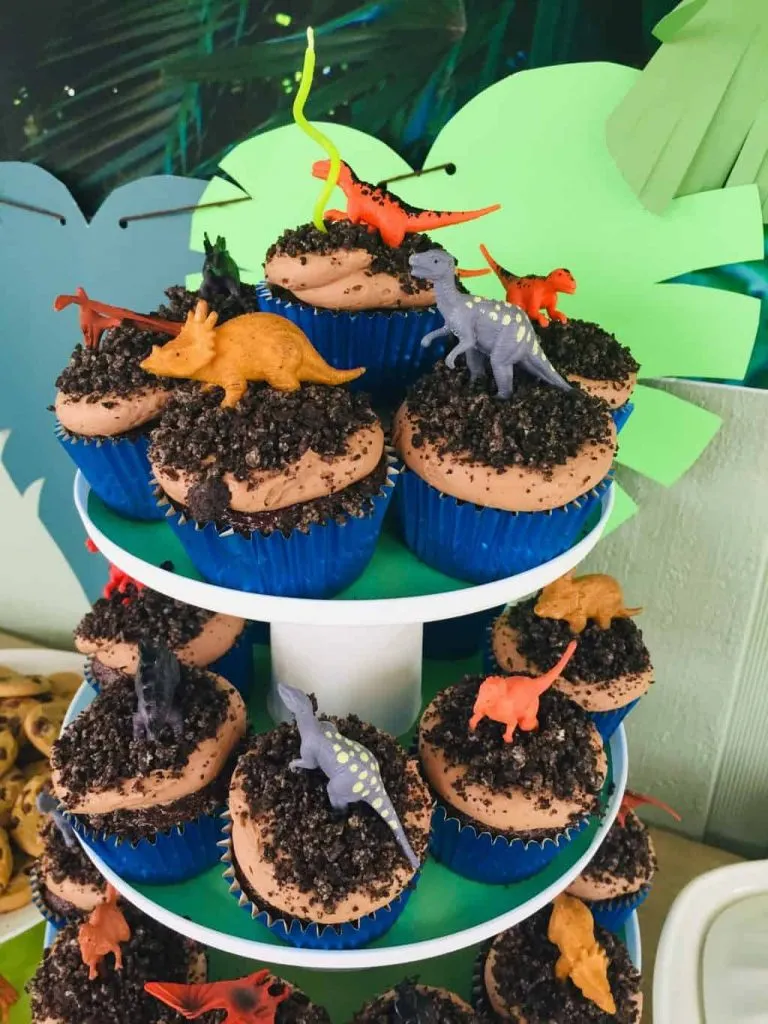 DIY Dinosaur Cupcakes
Make each cupcake unique by adding fun dinosaur-themed cake toppers like what this momma did for her son's birthday.
All you need are cupcakes with some icing on top (we recommend light-colored icing to provide some contrasts to the brown chocolate cake). Then, sprinkle generously with crushed Oreo cookies to create a volcano-ash-themed base for the mini dinosaurs to stand on.
What you will need:
Some dinosaur themed cake toppers
Oreo Cupcake recipe from Baking Mad
Image from Jules and Co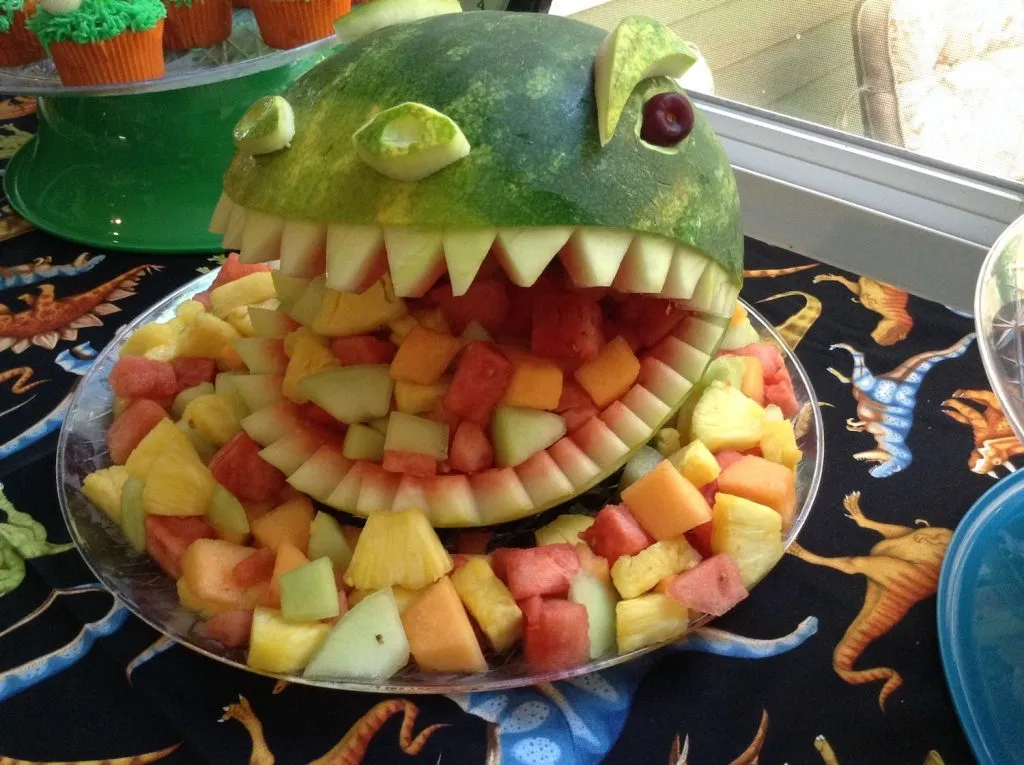 DIY Dinosaur Fruit Station
How awesome is this! It takes quite a bit of effort, but this mom pulled out all the stops to create the best dinosaur-themed food station we've seen.
She's also creatively named every dish at her party in a dinosaur theme – "swamp water" for punch, "Brontosaurs ribs" for BBQ ribs, and "lava pools" for raspsberry jello.
Definitely a site to check out if you plan on creating a full dino food spread.
What you will need:
Ideas from Not Your Normal Steam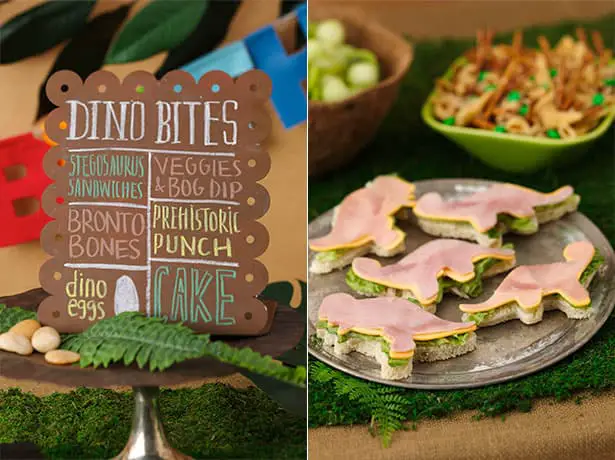 Dinosaur Shaped Party Food
A quick and easy way to transform any food – cookies, brownies, or even sandwiches into food in a dinosaur theme is to simply cut them into dinosaur shapes! Just make sure to pick the right sized cutter for the food you plan to cut.
What you will need:
Cookie cutters like this one

Image from Betty Crocker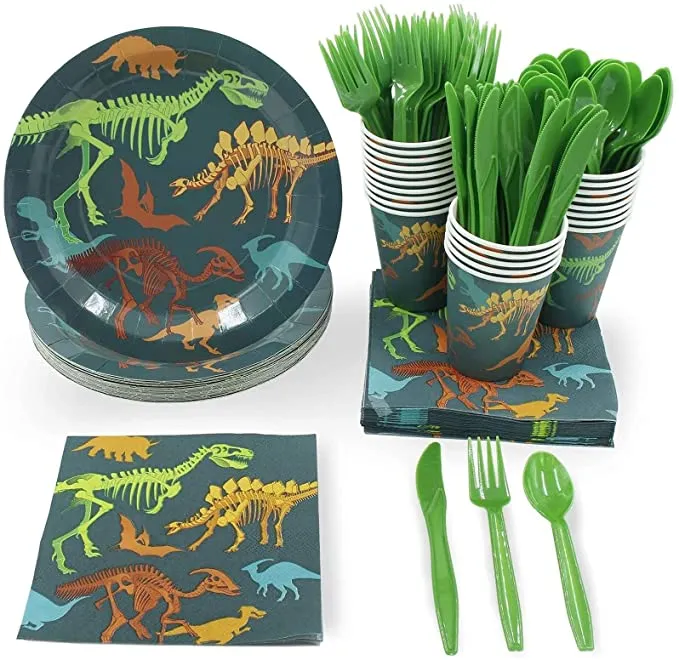 Dinosaur-themed Tableware
Impress your guests with customized plates, napkins, cups and cutleries that are in a dinosaur theme.
And the best part about buying this set of disposable tableware? No washing up after the party!
Dinosaur Party Activity Ideas
What's a party without fun activities? Although it is great to have the party photo-friendly with plenty of great decorations, what people will remember the most are the memories they make at the party.
Thankfully, a dinosaur party is very easy to set up, and there are plenty of dino-theme activities that kids (and adults!) can do that will keep the energy high throughout the day.
What Do You Do At a Dinosaur Party?
Popular dinosaur party activities include: excavating dinosaurs from egg fossils, dressing up as dinosaurs, painting dinosaur figurines and reconstructing dinosaur models with clay. With a bit of advance planning, you can easily set up an activity table at the party to keep kids entertained, and to give the adults a much needed break from the chaos.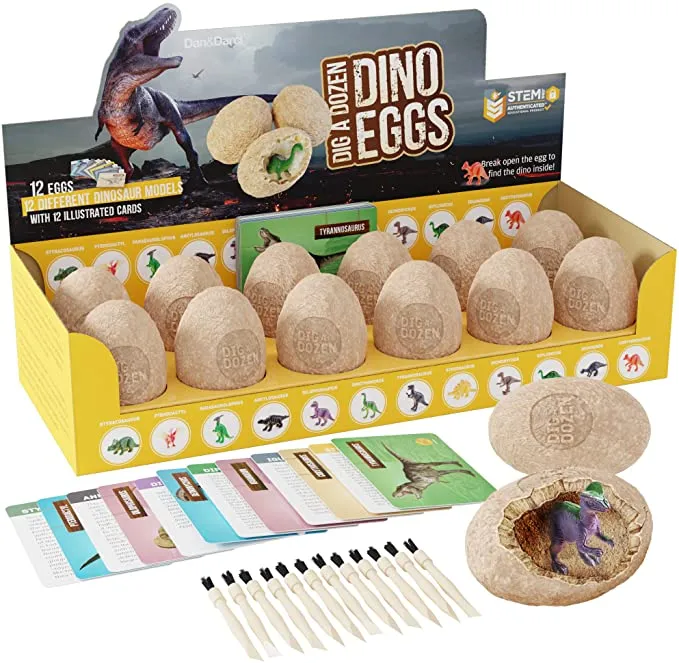 Dinosaur Excavating Activity
Dinosaur excavation is a great activity for children even as young as 3 to get into. All they need is a chisel and brush (included in the kit) and they can hack away at the egg to release the trapped dinosaur.

An activity set like can entertain up to 12 kids at once. Each egg takes about 30 minutes to complete, and every kid will have a dinosaur toy to take home at the end.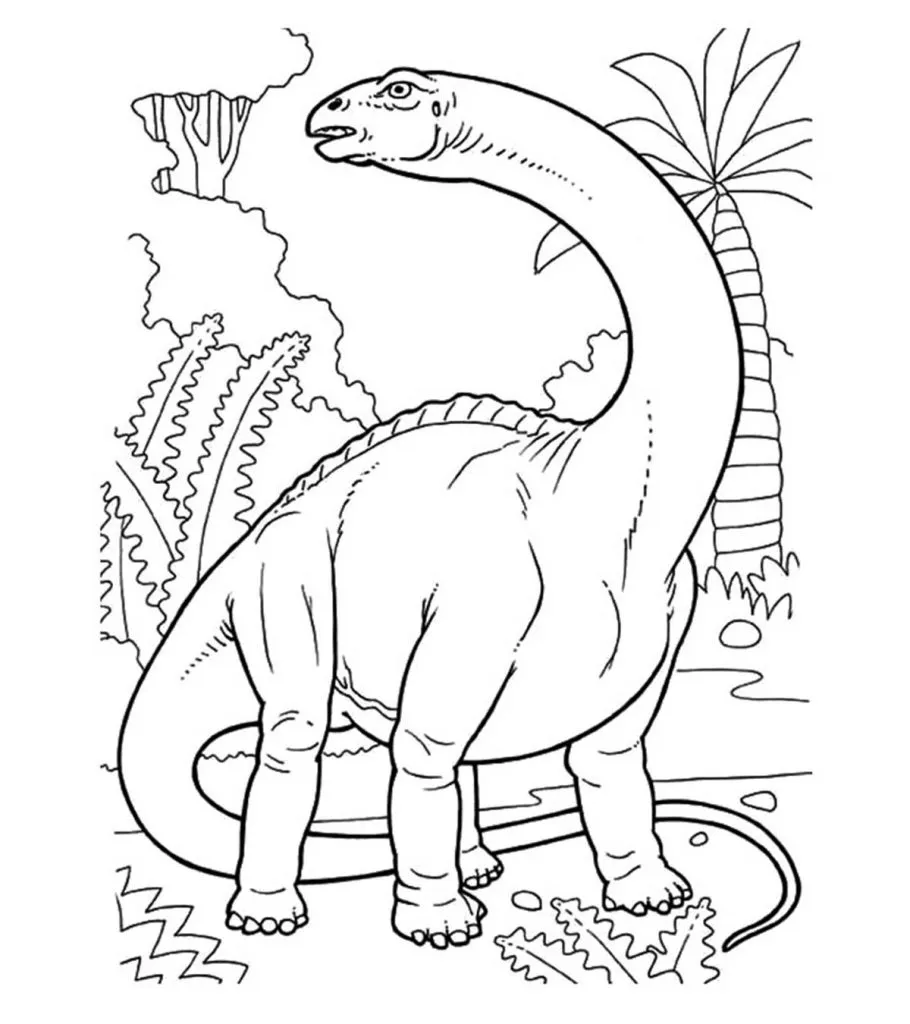 Dinosaur 3D Painting and Coloring
Painting and coloring. Another classic party favorites. You can easily print off some FREE dinosaur painting templates like the one on the left from Mom Junction. Alternatively, you can also get some plain dinosaur figurines and let the kids paint them in 3D.
What you will need:
Get the 3D painting set here on Amazon
Free coloring pages here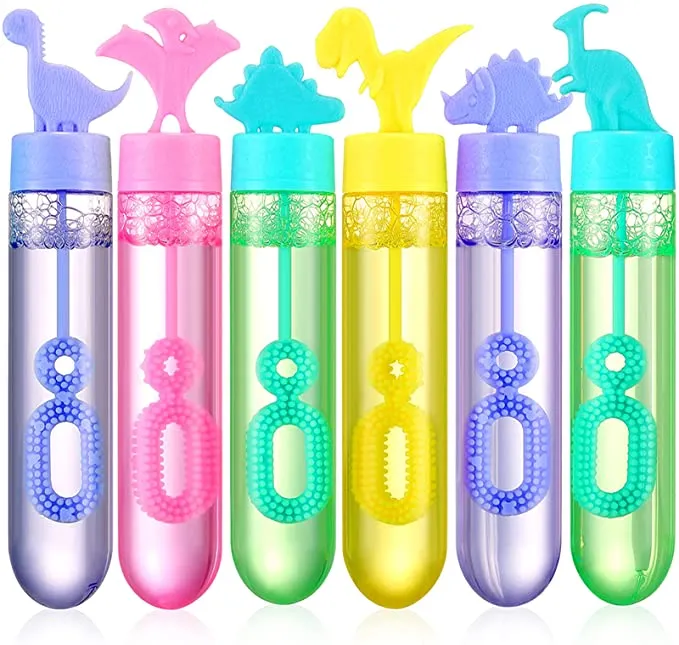 Dinosaur Bubble Wands
This pack comes in a set of 24 miniature bubble wands and can be used at the party or as a party favor for kids to take home.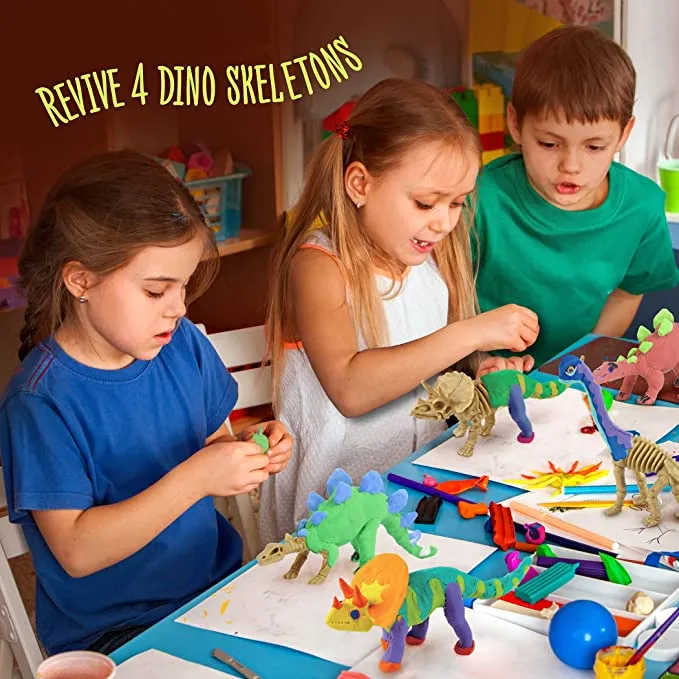 Build Your Own Dinosaur Clay Models
How about a creative fun project to bring dinosaurs back to life? Every child will start with a dinosaur skeleton, and be given an instruction manual to help them mold and sculp their very own dinosaur.
The dinosaur model pack comes with display stands for the finished models so your child can display and show off their creative pieces.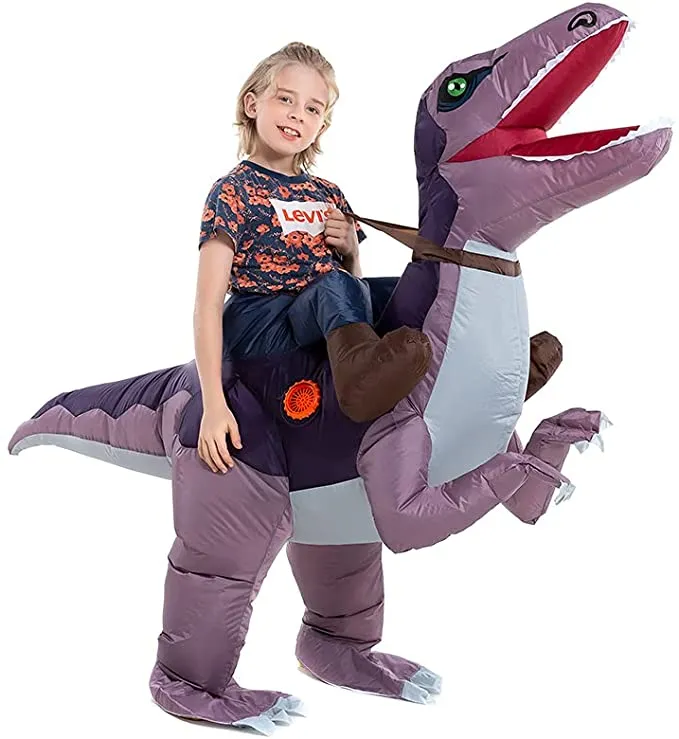 Dress up as dinosaurs
One sure-fire way of getting your guests into the party spirit is by asking them to come in a dinosaur outfit!
We found this incredibly fun inflatable dinosaur costume on Amazon that makes your child look like they are riding on a dinosaur.
Looking for dinosaur costumes for kids?
Check out this article for a review of the most popular dinosaur costumes for toddler and kids
---

Dinosaur Party Planning Guide
2 months before the event
Decide on your budget
Create your guest list
Book any 3d party entertainment you require
Book a venue (if not at your house)
Book a photographer (if you want one)
Order or print dinosaur party invitations
1 month before the event
Plan your menu and party decor
Send out invitations and start tracking RSVPS
If ordering food, order them now
If renting tables or equipment, order them now
2 weeks before the event
Confirm attendees
Confirm details with venues, photographers, entertainers (if using) and check if they have any special requirements for the day
Decide what games and activites you want to include (check out our dinosaur themed ideas above) and buy what you need
Buy goodie bags, party favors, tableware and decorations
If preparing any complex recipes (like baking a dinosaur cake), do a trial run now
1-2 days before the event
Buy food and drinks for the party
Start printing and assembling your decorations
Happy Planning!