Dinosaur fossils are very intriguing for kids because they feel ancient. "This Spinosaurus tooth was alive 100 million years ago!" And of course, because dinosaurs are usually large, scary and noisy when they roar! It is unsurprising that many kids love fossils. In this article, we will discuss ways in which you might be able to help your children tap into their natural curiosity to learn about dinosaur fossils, science, and even places where kids can touch and feel real fossils for themselves!
Where can I find dinosaur fossils for kids?
You can find real dinosaur fossils suitable for kids at natural history museums around the world. Some have specimens in their learning centers that you can touch. You can also buy real fossils or make some yourself at home.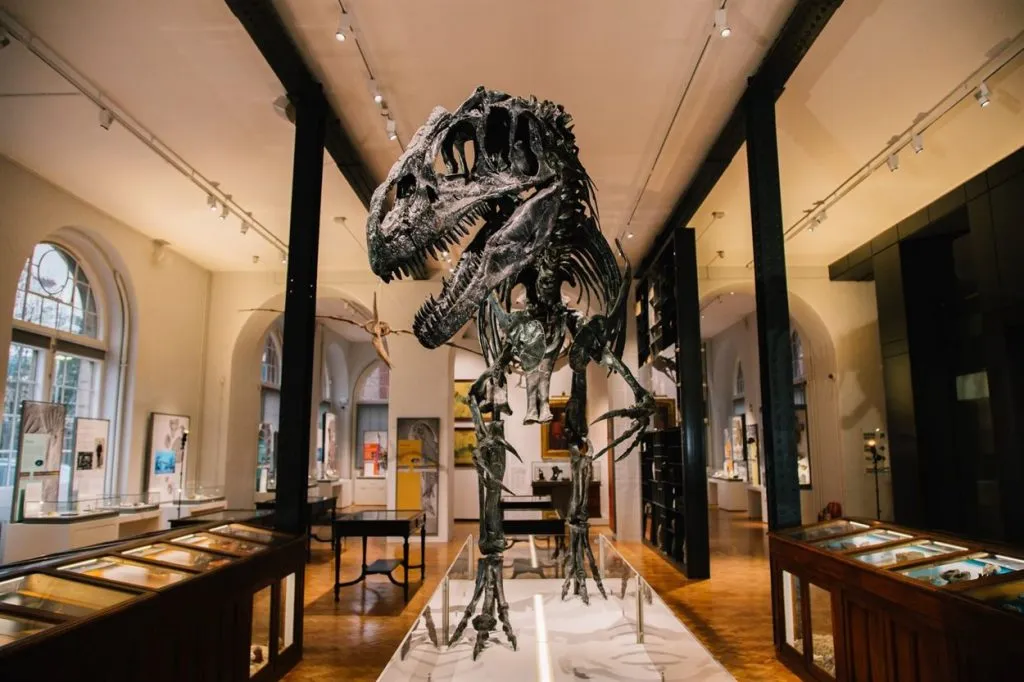 Visit a museum
Many countries around the world have natural history museums where dinosaur fossils are on display and available for the public to see. They are also usually free, or at least, they have specified days you can visit for free. For example, there are The American Museum of National History in New York, The Field Museum in Chicago, The National Dinosaur Museum in Canberra, Australia , The National History Museum in London, UK. Tip for parents of yound children: Look out for activities and events that are preschooler-friendly before you go.

Buy a fossil
If you are anything like me, your first thought might be, "Buy one? Really?!" What if we tell you that owning a real fossil is easier and cheaper than you think? Fossils are actually fairly abundant, provided they are not the rare types. Many fossil collectors walk along dinosaur trails and coast lines to collect fossils, some of which are bought and sold on sites like My Lost Gems ($), Fossilera ($$), and Buried Treasure Fossils ($$), all of which ships internationally. Just make sure to sort their fossils collection by price as rarer options can set you back thousands!

Buy a fossil excavation kit
For an easy, kid-friendly version, look out for fossil excavation learning kits. The National Geographic Mega Fossil Dig Kit is great. The kit contains 15 real fossils that you can dig using a small chisel and brush (included in the kit). There is also a detailed learning guide that explains how fossils are formed to help kids learn as they dig for dinosaurs, sharks, brachiopods, mosasaurs and ammonites.

Collect a fossil
Of course, if you are feeling particularly adventurous, you can go on a fossil hunting excursion yourself. The Jurassic Coast in Dorset UK, The Calvert Cliffs in Maryland, USA, The Coalseam Conservation Park in Nangetty, Australia, and the Dashanpu fossil site in Zigong, China are some of safe and the well-throdden paths for fossil hunting, many of which are great places to take young families. Be sure to check for the best fossil hunting season at each location, and abide by the local laws regarding fossil hunting and collecting.

Create homemade play fossils
Perhaps your children are too young, or you just want something tangible for your kids to touch and learn, you can easily make some play fossils at home. All you need are some playdough ingredients – salt, flour, water and miniature dinosaur toys (optional), to create some homemade fossils. Check out the guide below for a step-by-step instruction.

Here is a video summary:
How do you make fossils for kids?
It is actually fairly easy to create homemade fossils at home. The idea here is to use playdough to form a rock base, into which you press dinosaur shapes to create a fossil imprint. The playdough is then baked or left to dry out.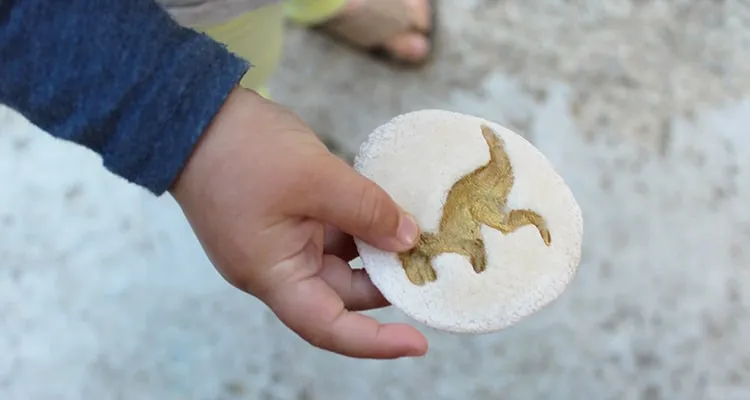 Create a playdough rock base

First of all, this is what you will need.



What you need:



1 cup salt
2 cups flour
3/4 cups water
Small dinosaur toys, seashells, leafs, feathers or anything small with intricate shapes you can use to press into the playdough

Steps:

Mix salt, flour and water together and knead into a soft ball form.
Pull out small fistfulls of the dough mixture, and shape them into flatten round disks.

Press the dinosaur toys into the dough
You can either press miniature plastic dinosaur toys into the dough to form shapes of a whole dinosaur. Alternatively, you can also use parts of the dinosaurs, or even a fork, to create dinosaur footprints or skeletal imprints of a dinosaur. Let your imagination run wild! For better effect, make sure that the dinosaur shapes are fully enveloped (pressed deeply) into the dough.

Bake the fossils in the oven or leave to dry overnight.
Bake on a low temperature (200 degrees fahrenheit or 90 degrees celcius) or simply leave the completed disks on the kitchen counter to dry out overnight.

Collect and learn
Admire your very own homemade fossils and learn about real ones on sites like Dinosaur Heroes!
Why do kids love dinosaurs?
There is something just naturally intriguing about these creatures that roamed the earth millions of years before us. Dinosaurs, like trains and dolls, are some of the most popular things that children can become intensely interested in. Their curiosity with dinosaurs usually peaks around the ages of 2 to 6, which is why are there just so many dinosaur-themed toys and parties around that age group.

Kids love dinosaurs because they encourage childrens' self-discovery through imaginative pretend play, which boosts their self-confidence. Imaginary characters like dinosaurs and unicorns are a perfect fit for imaginative play because they do not exist today, and thus kids can freely express themselves while playing without fear of being judged by an adult.
Related post: What Age Kids Love Dinosaurs & Why
What can you learn from fossils for kids?
Fossils are formed over millions of years through layers of sediment built up around skeletons which eventually compact and turn into rocks. Paleontologists learn about dinosaurs by reading and evaluating the fossils collected and making inferences about how they think the dinosaurs look, what they think dinosaurs do or eat or walk when they were alive.
Playing with fossils – whether real or make-believe – are great activities to expose kids to science and scientific thinking from an early age. These are some questions you might want to ask your kids:
How old are the dinosaurs when they were alive?
What type of dinosaurs were they?
Did they walk, swim or fly?
What do they eat? Hint: look at the shape of their teeth
How do you know that it is a fossil and not just a rock?
What can you learn about an object from the tracks it makes?