For a child who loves dinosaurs, receiving a dino-themed gift is a wonderful and exciting experience. It makes the child feel like his interests are validated by the adults around him, and he feels safe in his investigation and exploration of these awesome pre-historic animals.
Dinosaur-related presents can range from a simple Tyrannosaurus figurine toy to a walking and singing dinosaur robot. It can also be something that gives the child an unforgettable experience, for example a ticket to the museum or a fossils excavation kit.
In this article, we've listed interesting and unique ideas that we've found, appealing to even the most avid dinosaur fans!
Dinosaur Presents for Kids Under $30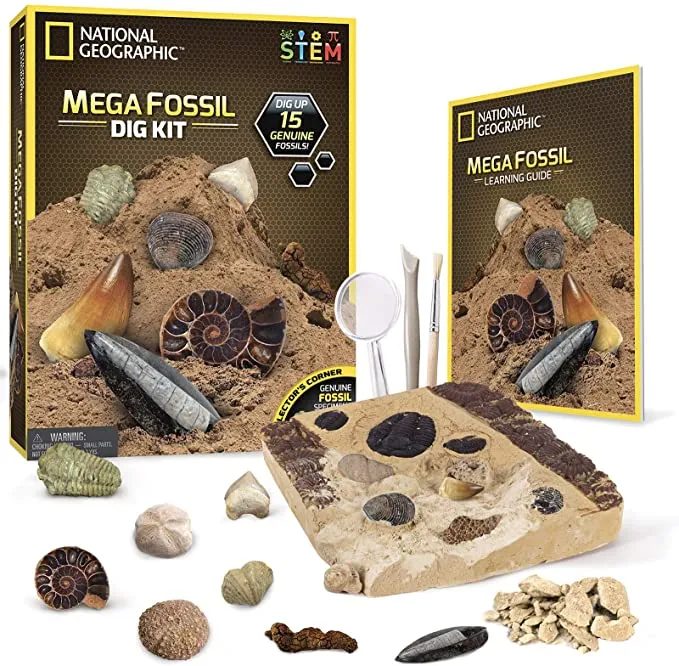 National Geographic Genuine Fossils Excavation Set
Nothing can be as thrilling to a future paleontologist as the act of actually excavating real fossils from rock formations!
This is an exclusive National Geographic kit that contains 15 actual fossils from around the world – such as a Mosasaur tooth – accompanied by a beautifully illustrated learning guide that explains what the fossils are.
Everything needed is included in the kit, including a chisel, a brush and a magnifying glass, providing a complete experience in a box.
This excavation box is suitable for 8 years and up.
Available on Amazon
Real Dinosaur Tooth Fossil
This is guaranteed to be an absolute gem for any aspiring dinosaur fossils collector. This is a rare opportunity to own a real piece of a Spinosaurus, also known as a Spine Lizard because of the spine-like sail that runs along the back of the dinosaur.
As you can imagine, each item sold is unique and will therefore be different from the images shown. Do follow the instructions provided on the site to ensure you get exactly what you are expecting!
Available here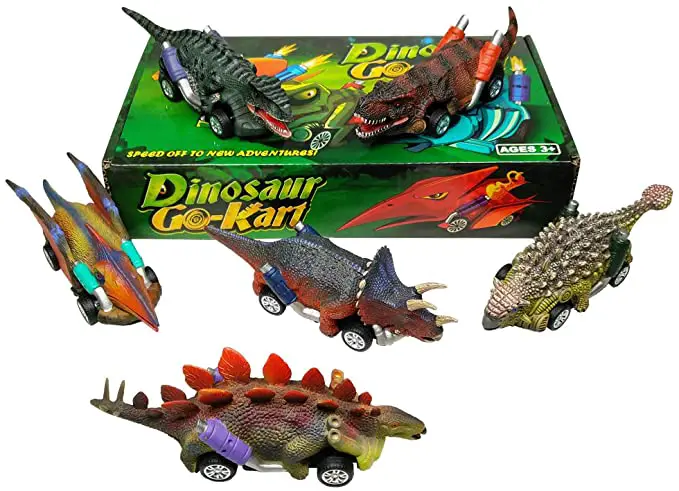 Dinosaur Toy Pull Back Car
A simpler gift that will appeal to dinosaur lovers who also happen to like cars (like my son!). This pack comes with 6 dinosaurs – T-Rex, Triceratops, Stegosaurus, Ankylosaur, Pterosaur, and Velociraptor, each about 5″ in length.
No batteries are required to operate the cars. Simply pull back and release to watch the toy dino-car move.
Suitable for pre-school children aged 3-5 years old.
Available on Amazon
A visit to a Natural History park or museum
Sometimes the best gifts are not toys, but an experience that the whole family can enjoy together.

Many cities in the world have dinosaur attractions that will delight dinosaur fans of all ages. Most theme parks will be above budget, but there are plenty of parks, exhibitions and museums that would fall under $30, such as:
The American Museum of National History in New York
The Field Museum in Chicago
The National Dinosaur Museum in Canberra, Australia
The National History Museum in London, UK
Dinosaur Hand Puppets
A set of three distinct and popular dinosaurs puppets – a Tyrannosaurus, a Velociraptor and a Dilophosaurus. Each puppet is made of structured yet flexible material that gives the dinosaur heads a realistic look but is easy enough to manoeuvre for even the smallest hands.
An excellent accompaniment to a book-reading or imaginative role-play activity.
Suitable for pre-school children aged 3-5 years old.
Available on Amazon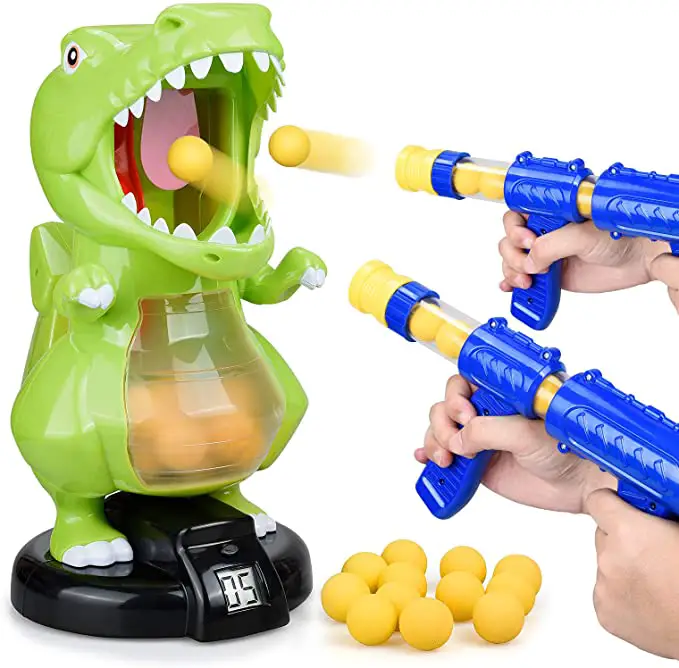 Dinosaur Target Practice Game
A fun arcade-style shooting game for the whole family or a group of friends. Players take turns to shoot foam balls into the mouth of a dinosaur using an air gun.
Scores are displayed at the bottom of the dinosaur on an LCD screen. For added effect, the dinosaur will make a sound every time you score. The highest scorer wins.
Available on Amazon
Dinosaur Night Light
This round LED projector creates fun and colorful dinosaurs, paws and plants, and egg shapes all around the walls of a room in a 360 motion.
Great for when you want to instantly create a fun, party atmosphere in a room, especially for teenagers and kids. The unit itself is pretty compact but don't let it fool you, the light is strong enough to fill the whole room.
Available on Amazon
Melissa & Doug Wooden Jigsaw Puzzle
A set of four vibrantly illustrated jigsaw puzzles, neatly packaged into a sturdy wooden storage box.
Each puzzle contains 12 pieces and depicts a popular dinosaur – a Triceratops, an Apatosaurus, a Stegosaurus, and a T-Rex. Children as young as 3 can practice their problem-solving, memory and fine motor skills whilst solving the puzzle. Perfect as a non-screen-time activity.
Suitable for 3 to 6 year-olds.
Available on Amazon
Happy Little Dinosaurs Board Game
There is nothing quite like playing board games as a family. It induces laughter, strengthens relationships and gives children a chance to sit side-by-side with adults and speak their minds.

In this 2-4 player game, you'd try to dodge the many physical and emotional disasters coming your way – you might fall into hot lava pits, get attached by squirrels, or get ghosted on a dino date! The last one standing wins.
Suitable for 8+.
Available on Amazon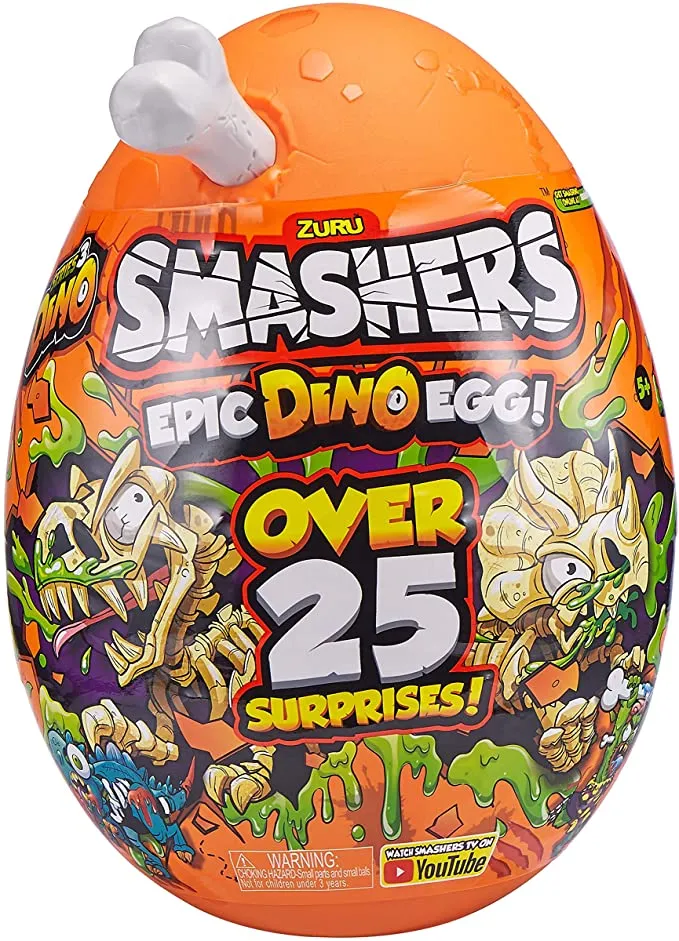 Smashable Dinosaur Eggs
If you are a parent you'd know that kids absolutely love smashing things! That's why we just had to include this smashable dinosaur egg in the list.
Hidden inside this giant dinosaur egg is a great activity set for dinosaur-loving kids. Smash open the dinosaur eggshell to reveal over 25 surprises including excavation kits, slime, fizzy lava bombs and broken dinosaur bones you can assemble and build into your very own dinosaur skeleton model (you can choose one of three – a Brontosaurus, a T-rex or a Triceratops). You can even rebuild it if you want to smash it all over again.
Suitable for 5-year-olds and above.
Available on Amazon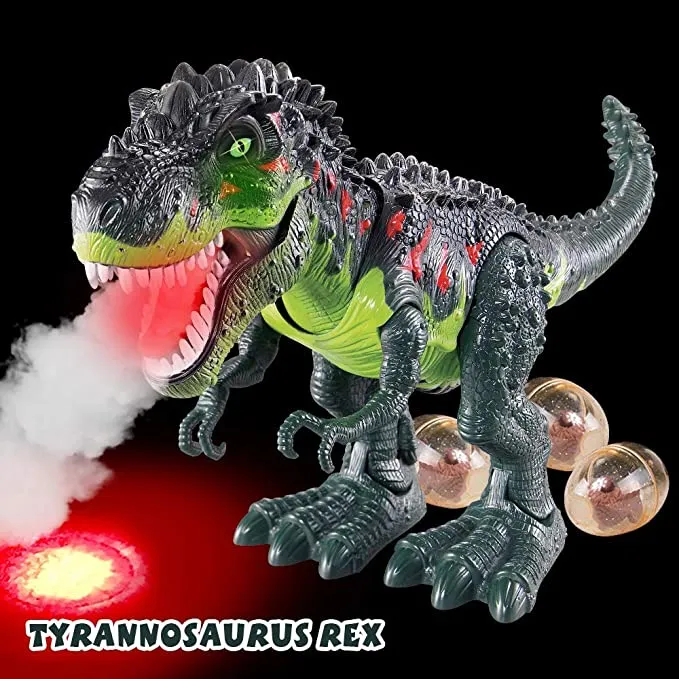 A Cool Dinosaur Pet
This dinosaur has glowing green eyes, can walk, breathe fire and smoke, roar… and it can even lay eggs! There is a small water compartment at the back of the skull of the T-rex which produces an impressive fine mist when the dinosaur opens its mouth, which is accompanied by red LED lights that light up. Combined, this gives the dinosaur a realistic 4D "fire breathing skill" which you can feel because of the water mist.
Suitable for 3-year-olds and above.
Available on Amazon
Related Post: 150 Cool Names for Your Dinosaur Pet
Build-your-own Dinosaur Kit
This kit includes dinosaur parts, together with an electric drill and ample screws to build 3 separate dinosaur toys. Older children will be able to follow the easy-to-read instructions guide to build their own dinosaurs, developing their hand-eye coordination and problem-solving skills.
What's interesting about this kit is that the joints are flexible – once assembled, children can wag the dinosaur's tail, swing its head, and open and close its mouth.
Suitable for 3 to 8-year-olds. Younger children might require help and supervision from an adult to build.
Available on Amazon
Related Post: 150 Cool Names for Your Dinosaur Pet
Dinosaur Gift Buying Guide
Do you know that dinosaurs toys are some the most in-demand children's toys? That's why dinosaurs make a great gift for kids. Even though they will never meet one in real life, kids are exposed to so many TV programs that contain dinosaurs that most are familiar with these fascinating creatures.
When buying a dinosaur-related gift for a child, we would recommend taking note of the following:
Age of the child
First and foremost, take note of the age of the child you are buying for and the recommended age range for the toys and gifts.
Their level of interest in dinosaurs
Children as young as four can surprise even adults like you with their in-depth knowledge of dinosaurs. The more interested they are in the topic, the more likely they are to be picky about the scientific accuracy of the dinosaur gift you give. For example, an excavation kit might be a better option for a dinosaur-passionate child, as opposed to a fire-breathing robot dinosaur (no, dinosaurs did not breath fire.)
For reference, if you are unsure, children's interests in dinosaurs typically peak around the age of 3 to 6.
Whether you'd rather gift a toy or an experience
If you are anything like me – a millennial parent to a young child – you'd prefer spending money on "experiences" rather than toys (yes, that's very stereotypical of me). My personal favourite is taking a child to a dinosaur theme park or museum to see some dinosaurs in real life. Of course, this is much harder to coordinate than gifting a toy, and a real dinosaur tooth fossil comes in a close second as my favourite dinosaur gift under $30 for a child.